Flynas, a Saudi Arabian airline, has introduced additional flights to various destinations for the upcoming summer season, such as Maldives, Armenia, Albania, Oman, and other locations.
Flynas, a Saudi Arabian low-cost airline, has revealed its plans to introduce 10 new destinations and routes across Europe and Asia in the upcoming summer travel season of 2023.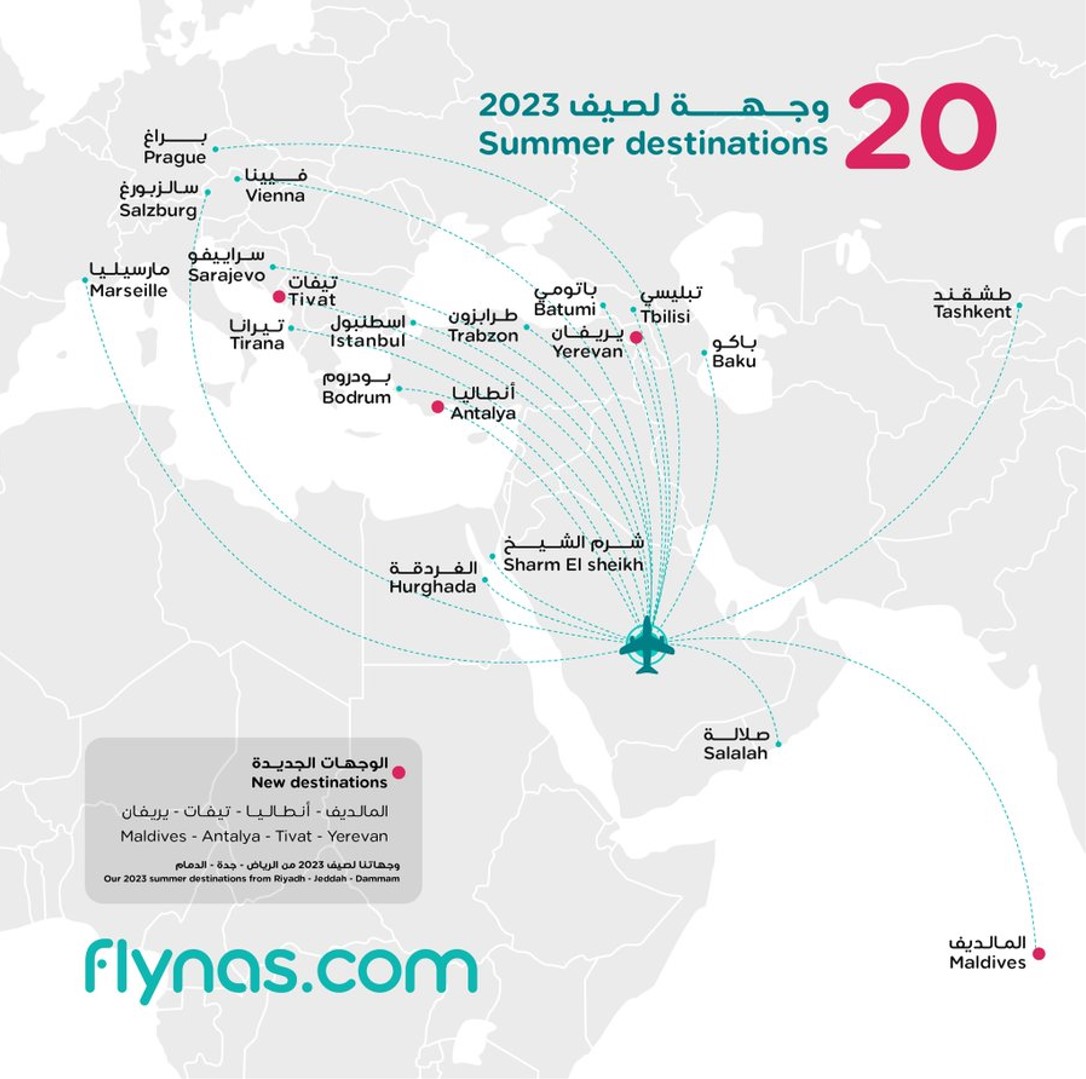 The airline will serve four new destinations, including Yerevan in Armenia, Antalya in Turkey, Tivat in Montenegro, and the Maldives from King Khalid International Airport in Riyadh. Additionally, six new routes will be launched, comprising flights from Dammam to Tirana in Albania, Istanbul and Trabzon in Turkey, as well as Salalah in Oman.
Flynas has also announced two additional routes from Jeddah to Salalah and the Turkish city of Bodrum, as stated by the Saudi airline. The airline will also continue operating its seasonal summer destinations and routes, such as Prague in the Czech Republic, Vienna and Salzburg in Austria, Tbilisi and Batumi in Georgia, Sarajevo in Bosnia, Hurghada and Sharm El-Sheikh in Egypt, Trabzon and Bodrum in Turkey, and Salalah in Oman.
In total, flynas will serve 20 destinations as part of its summer 2023 schedule. According to Bander Almohanna, the CEO of flynas, the introduction of new destinations and routes is a testament to the airline's commitment to its expansion and growth strategy.
"This approach is in line with the objectives of the Saudi Vision 2030 and the civil aviation strategy to reach 330m passengers, 250 international destinations, and 100m tourists annually," said Almohanna.
Flynas has set a goal to become the leading low-cost airline in the Middle East and one of the top ten airlines in its category globally.
The CEO further stated that flynas achieved a remarkable improvement in its performance and operations in 2022, with an impressive 91% rise in the number of passengers, totaling to 8.7 million passengers, and a substantial surge of 45% in the number of flights, amounting to 66,000 flights. Additionally, there was a 46% increase in seat capacity.
"flynas is keen to continue growing in its operations through upscaling its fleet by 50% during the current year 2023 compared to 2021, as the number of aircraft increased to 44 in February after taking delivery of the first A320neo out of 19 aircraft of the same model to be delivered during the next 10 months" Almohanna said.