Do you have plans to visit Albania? If yes, you're just in the right spot! Discover the beauty and culture of Albania with our travel guide! Immerse yourself in the country's rich history and traditions as you explore its picturesque landscapes and moving cities. From the stunning beaches of the Albanian Riviera to the historic city of Berat, known as the "city of a thousand windows", Albania has hidden something for everyone.
Experience the traditional way of life as you explore the local markets, sample delicious traditional cuisine, and learn about the country's unique customs and folklore. Take in the stunning natural beauty of the Valbona National Park and the Theth National Park, known for its rugged mountains and crystal-clear rivers.
An interesting fact about Albania

Albania has a long history of traditional folk costumes that vary depending on the region. These costumes are an important part of the country's cultural heritage and are still worn by many Albanians today, particularly during festivals and other celebrations. The traditional costumes feature intricate embroidery and beadwork, and often include items such as the fustanella, a type of traditional skirt-like garment worn by men, and the plis, a traditional headscarf worn by women. These traditional costumes are also a way to identify different regions within the country, as each region has its own unique style.
How to visit Albania?
—
Albania boasts strong air connections to various European countries, particularly through its capital city of Tirana. The majority of flights to Tirana are operated by budget airlines as well as local operators such as Albawings, and Air Albania. Albania is connected with Germany with regular flight routes from cities such as Berlin, Memmingen, Hahn, Frankfurt, and Cologne. Additionally, there are frequent flights from Italian cities like Rome, Rimini, Treviso, Turin, Milan, Bari, Pisa, Verona, and Venice. Tirana International Airport also offers regular flights to other European destinations such as Brussels, Barcelona, Lyon, Athens, Stockholm, and more.
Tirana Airport
—
Tirana International Airport "Mother Teresa" (TIA) is the main airport serving the capital city of Tirana and the surrounding areas in Albania. The airport is located 17km northwest of Tirana. TIA offers a variety of services and amenities for travelers including duty-free shops, restaurants, and cafes. There are also ATM machines, currency exchange booths and free wifi access throughout the airport.
The airport also offers car rental services, taxi and public transportation options to reach the city center and other destinations. The airport operates with a single terminal for all flights, including domestic and international flights. TIA is considered as an important hub for the Balkans and a gateway to explore the country and the region.
Most popular flights to & from Tirana
—
| | |
| --- | --- |
| 🇮🇹 | Rome-Tirana |
| 🇸🇪 | Stockholm-Tirana |
| 🇦🇹 | Vienna-Tirana |
| 🇮🇹 | Milan-Tirana |
| 🇬🇷 | Athens-Tirana |
| 🇮🇹 | Bologna-Tirana |
| 🇹🇷 | Istanbul-Tirana |
| 🇩🇪 | Berlin-Tirana |
| 🇩🇪 | Frankfurt-Tirana |
| 🇪🇸 | Barcelona-Tirana |
| 🇧🇪 | Brussels-Tirana |
| 🇮🇹 | Verona-Tirana |
| 🇮🇹 | Turin-Tirana |
| 🏴󠁧󠁢󠁥󠁮󠁧󠁿 | London-Tirana |
7 cities in Albania to explore
Tirana: The capital city of Albania, Tirana is an active and colorful city with a mix of modern and historic architecture. Visitors can explore the city's historic center, visit the National Museum of History, or take a walk down the bustling main boulevard.
Saranda: Known as the "pearl of the Albanian Riviera," Saranda is a coastal city located on the Ionian Sea. Visitors can enjoy the city's beaches, take a boat trip to the nearby islands, or explore the ancient ruins of the city of Butrint, a UNESCO World Heritage Site.
Berat: Known as the "city of a thousand windows," Berat is a historic city with a well-preserved old town, featuring Ottoman-era houses and the impressive Berat Castle. Visitors can also explore the city's many Byzantine churches, including the Onufri National Museum.
Shkoder: Located in the northwest of the country, Shkoder is a charming city with a rich cultural heritage. Visitors can take a walk through the city's historic center, visit the Marubi National Museum of Photography, or take a boat trip on the beautiful Lake Shkoder.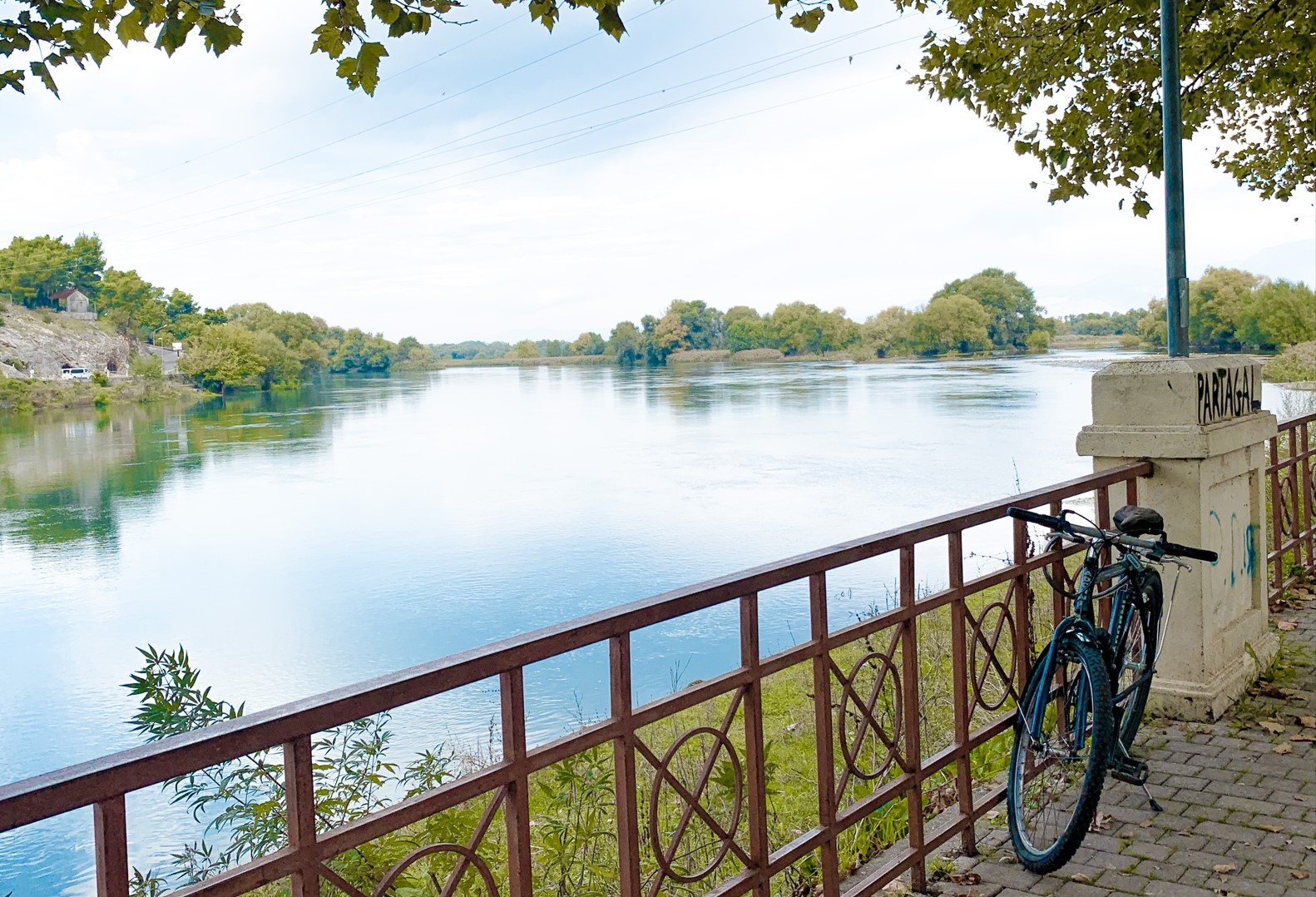 Durres: Durres is the second-largest city in Albania and one of the oldest continuously inhabited cities in the Balkans. It is located on the Adriatic Sea and is known for its beautiful beaches, Roman ruins, and historical monuments. Visitors can explore the Roman Amphitheater, the largest of its kind in the Balkans, the Venetian Tower, and the Durres Archeological Museum. Durres is also a great spot to try traditional seafood cuisine and enjoy the Mediterranean climate. It is well-connected to other cities through bus, train and air services and makes a perfect stop for those exploring the country.
Kruja: Known as the birthplace of Albania's national hero Skanderbeg, Kruja is a historic city located in the mountains of central Albania. Visitors can explore the Skanderbeg Museum and Castle, walk through the charming old bazaar, and learn about the city's rich cultural heritage. The city also offers a great view of the surroundings and is a perfect spot for trekking and hiking. The city is located a short distance from Tirana and is easily accessible by car or bus.
Gjirokastra: Known as the "city of stone," Gjirokastra is a UNESCO World Heritage Site known for its well-preserved Ottoman-era architecture. Visitors can explore the city's narrow streets, visit the Gjirokastra Ethnographic Museum, or take a trip to the nearby Blue Eye, a natural spring with crystal-clear water.
5 dishes to try in Albania
—
Tavë Kosi: This traditional dish is a staple of Albanian cuisine and is made from lamb or veal, yogurt, and eggs. It is typically served with rice or bread. It's worth trying when you visit Albania.
Byrek: Also known as burek, this savory pastry is made from layers of phyllo dough and is filled with meat, spinach or cheese. This dish is very popular in Albania and can be found in many local bakeries.
Fërgesë: This traditional Albanian soup is made from mixed vegetables and meat, usually beef or lamb. It is a hearty and comforting dish that is perfect for a cold day.
Qofte: These meatballs are made from ground meat, usually beef or lamb, and are typically served with a side of vegetables or rice. They are often seasoned with spices and herbs to give them a unique flavor.
Fërgesë me Mish Pule: This is a traditional dish of chicken stew which is made with a variety of vegetables and spices. It is a hearty, comforting and delicious dish that is perfect for a cold day. It can be served with rice or bread.
Best season for visiting Albania
—
Summer (July to September) is the peak tourist season in Albania, with warm weather and long days perfect for swimming, sunbathing and exploring the Albanian Riviera, a coastline along the Ionian and Adriatic seas. It is also the best time to visit the many festivals and events that take place throughout the country.
Visit Albania in Spring (April to June), that is a great time to visit if you're interested in outdoor activities such as hiking, skiing, and exploring the country's natural beauty. The weather is mild, and the countryside is lush and green.
Fall (October to November) is a great time to visit if you're interested in experiencing the country's cultural heritage. The weather is still mild, and the crowds have thinned out, making it an ideal time to visit the historic towns and cities.
Winter (December to March) is the low season for tourism in Albania. The weather is cold, and some tourist sites and activities may be closed, but it's still possible to enjoy the winter sports like skiing in the Albanian Alps.
It's worth noting that Albania's weather can be quite unpredictable, so it's always a good idea to check the forecast before planning your trip.
Guided tours in Albania
—