A total of 495 new planes will be acquired by the Indian Air airline, consisting of an order of 220 aircraft from Boeing, an order of 250 planes from Airbus, and an additional agreement to lease 25 planes from Airbus.
Total recent orders of Air India include:
Boeing Order:
190 737MAX
20 787
10 777X
Airbus Order:
On Tuesday, N Chandrasekaran, the Chairman of Tata Group, confirmed that Air India has signed a letter of intent for the procurement of 250 Airbus aircraft. The substantial order will comprise of 210 A320neo family aircraft and 40 A350 widebodies, which will consist of 140 A320neo, 70 A321neo, 34 A350-1000, and six A350-900 models.
Guillaume Faury, the CEO of Airbus, commended the agreement and highlighted that the new Air India planes will enable the airline to establish a global hub in the country.
Air India, which is the oldest and most conventional airline in India, was under state control until the start of 2022, following which it was acquired by the Tata group.
Air India is set to receive its initial aircraft, an A350-900, by the conclusion of 2023. However, it remains uncertain when the airline will be able to acquire the A320neo family aircraft due to the long waiting list. This declaration follows several months of conjecture about a modernization strategy that encompasses 220 Boeing planes, including 190 737 MAX, 20 787 Dreamliner, and 10 777X.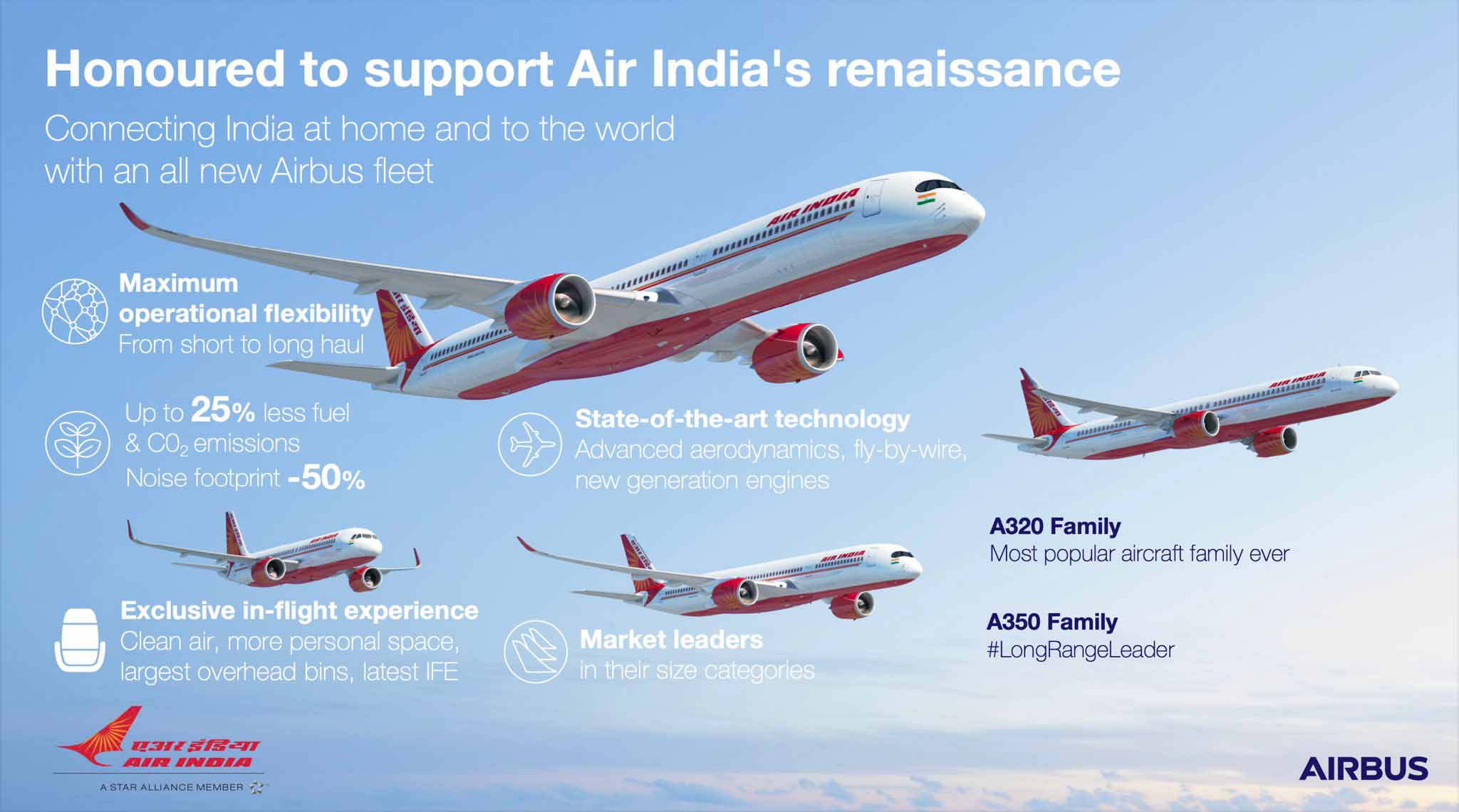 At the end of last year, India achieved a significant feat by surpassing China as the world's most populous country. However, the rapid growth of its population is not mirrored in the scale of its commercial aviation fleet. Presently, the entire country possesses approximately 700 aircraft, which is lesser than the number of planes operated solely by United Airlines Holdings Inc. Furthermore, only 50 widebody jets are available to transport India's increasingly mobile population of 1.41 billion.
Largest aircraft orders in a single tranche

Airline

Order size

Year

Air India

470 ✈

2023

American Airlines

460 ✈

2011

IndiGo Partners

430 ✈

2017

IndiGo

300 ✈

2019

United Airlines

270 ✈

2021

IndiGo Partners

255 ✈

2015
Through their global networks, Emirates, Etihad, and Qatar Airways facilitate the transfer of passengers to and from India. Air India's ultimate objective should be to restore the confidence of travelers in their ability to offer non-stop flights, as opposed to customers opting for a one-stop option with one of the Gulf airlines.