The world is full of wonders, both man-made and natural, so why waste time on worries when you can enjoy every moment exploring new emotions and impressions? We are here to turn your every moment into memory so let's start with our short virtual tour in the best cities of Europe.
In search of the most exciting and cozy places in Europe, we have created an ultimate list of new destinations in Europe for budget tours, including the top cheapest and highest rated hotels. Why search for cheaper options? There is so much to do while traveling, and it is definitely worth saving on accommodations. Grab your map and pin those five fantastic destinations with a short guide on where to go and what to do. 
Prague, Czech Republic
Prague, the capital of the Czech Republic, lies at the heart of Europe and is considered one of the finest places with rich cultural heritage and attractions, the blend of thousand-year history and urban life. 
Where to go
Want some exciting places in Prague? The lovers of photoshoots will find a show-stopping view on the Golden Lane – Playground of Alchemists, a peaceful place with narrow branched alleys where Franz Kafka used to live. According to legends, alchemists experimented with materials and tried to turn the street into gold. What if the streets are genuinely golden? Want to try?
Time to explore Prague's nightlife, and we will start with authentic Czech beer, the world-famous Budvar, and Staropramen Czech lagers. Enjoy the drinks and make the nightlife brighter with the notes of perfect jazz, electro music, or simply take a pub crawl. 
What to see
Start exploring Prague, strolling about the medieval streets enjoying delightful daylight in the Old Town Square, and soaking the romance of sunsets down the riverside. Make sure not to miss the spectacle of the mechanical clock. The 15th-century Astronomical clock is one of the main city attractions. Take a fascinating city view from Charles Bridge, the 14th century stone gothic attraction connecting Old Town and Lesser Town. Your list of "must-see" places should include Prague Castle, the breathtaking architectural masterpiece that served as the seat of Czech rulers.
What to eat
And here we are, in the most delicious part of our tour. There are three names to remember and taste in Prague: pickled cheese (Nakládaný hermelín) with onions, pepper and dark bread, pork knuckle with sauce, and Trdelnik (chimney cake) with cinnamon for dessert. 
Where to stay
Hotel Merkur 
This cozy hotel is located steps away from Old Town Square, the heart of Prague. It is a beautiful place for singles and couples traveling.
[tp_widget][/tp_widget]
–
Pension Dientzenhofer
This hotel is a secluded place to feel the atmosphere of Prague romance built in Czech Baroque architecture with an interior in absolute harmony with the mood.
LH Vintage Design Hotel Sax
The hotel is decorated in the vintage design of 1950s Prague with unique interior pieces of original furniture to make you feel the atmosphere of the past century. 
Yerevan, Armenia
Yerevan is a new unexplored gem of Europe that has so much to show and give. The city, older than Rome, is an unimaginable mixture of European lifestyle and traditions intertwined into the fuss of Yerevan.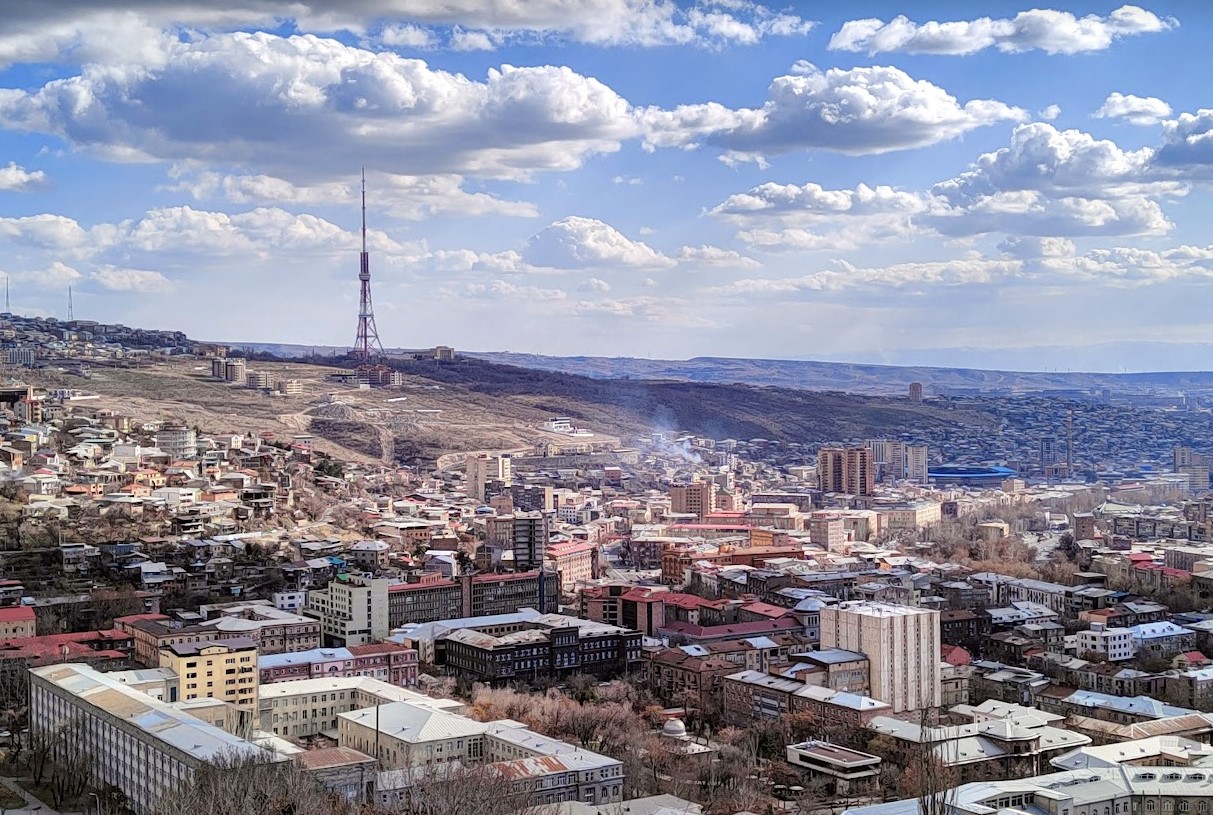 Where to go
Yerevan can give you anything you are looking for in a new place, be it an active rest or a family holiday. The capital of Armenia was built in 782 BC as a fortress called Erebuni. The first place worth visiting is the Erebuni fortress and the remains as living proof of the city's history. From ancient architecture, let's move to another outstanding city view, Cascade, a staircase-formed monument rising 118 meters high with the most spectacular view of the city center. Walk around, and you will see unique pieces of world-known modern art. Visit Republic Square to admire the performance of singing fountains and beautiful parks close to the square.
What to see
Are you a lover of quality alcohol? Even if not, include a short tour of the Yerevan Brandy-Wine Factory Noy in the Erivan fortress of the 16th century. The cellars of the factory, narrow alleys, and secret passages keep hundreds of years of history. Dizzy with emotions and the smell of Armenian brandy, head to the city center to enjoy the noise of Yerevan's nightlife and the lights of cafes and cocktail bars. 
What to eat
It is the most favorite part of the tour about Yerevan and Armenia. There are three names to remember and try in Yerevan: Khorovac or Armenian bbq, big portions of meat or fish tastier than anywhere else; crayfish kebab made of river crayfish and Armenian Pakhlava for dessert. 
Where to stay
Andor Hotel
One of the coziest places in Yerevan, the hotel has everything you need to feel comfortable. The interior is a wonderful mix of traditional motifs and modern design with wooden details. 
[tp_widget][/tp_widget]
–
Diamond Hotel Yerevan
Located in the heart of Yerevan, this is so far the best option with a price-quality ratio to get luxe comfort and amenities at an affordable price. 
Nova Hotel Yerevan
A modern loft-style hotel is another excellent option for a city stay, comfort, and secluded rest with the benefits of a 4-star hotel. 
Tbilisi, Georgia
Being a transcontinental county and city between Asia and Europe, Tbilisi is a unique concentration of cultures with perfectly preserved traditional architecture and ultra-futuristic city views on the other side. What will you get in Tbilisi? Best food and wine, active nightlife, and breathtaking views. 
Where to go
Old Tbilisi is a big attraction to see. Every corner is a picture-perfect view with narrow cobbled alleys. One of the must-visit places is sulfur baths with unique architecture and underground warm mineral water. To admire all the city's beauty, go higher to the Narikala fortress through modern Rike Park. If you want to buy souvenirs, head to the underground tunnel Meidan Bazar to find Georgian handicrafts, homemade wine, and souvenirs.
What to see
Everything you see on your way is worth your attention, but there are a few names to keep in mind. For modern art, visit Fabrika, an old sewing factory transformed into a unique space including a hostel, art studios, co-working, cafes, and bars to admire modern art. Also, check the leaning clock tower in one of the alleys of Old Tbilisi and wait for an angel to hit the bell. 
What to eat
It is impossible to briefly introduce the top popular traditional dishes. So grab anything that will help you digest and start your gastro tour by tasting all the types of khachapuri, the absolute winner Khinkali, and something for dessert like Gozinaki.
Where to stay
Tbilisi is known for its super cool and affordable accommodations, and it is not very hard to find a great place even during the high season. This hotel close to Freedom Square is a great option to enjoy the city. 
For romantic stays, choose Lowell Hotel with an interior in soft pastel tones, compelling decor, and an open terrace to enjoy warm evenings. 
Amante Narikala by Tbilisi Luxury Boutique Hotels
An absolute winner in style, comfort, price, and location, Amante hotel will make you fall in love with Tbilisi every time you get close to your window. 
Andorra La Vella
The capital of the independent coprincipality of Andorra is a beautiful town lying near the confluence of the Valira del Norte and the Valira rivers, an isolated valley full of beautiful things to see. 
Where to go
Let's start our tour with the most famous sight, La Casa de la Vall, the historic house built in the 1500s in Catalonian style. It is part of Andorra's culture and architecture, the bright example of history. The next stop is the Church of Sant Esteve, located in the historical site of the town. The Romanesque beauty of the church, built in the 1100s, still amazes with its power. The final stop is the Bridge of la Margineda, a small medieval bridge with encompassing views of mountains and old town buildings. 
What to see
Photos are our passion, and each trip leaves hundreds of shots in cameras and phones. There are countless places to save in Andorra la Vella, but the best one is Noblesse du Temps (the Nobility of Time) or "the Dali Clock," the world-famous melting clock on a tree trunk. The sculpture of Salvador Dali. Here is another exceptional experience in Andorra la Vella. Caldea thermal waters are not far from the city but it is a place worth visiting. The sulfurous thermal springs with different temperatures have unique healing and relaxing effects.
What to eat
Mainly Catalan, Andorran traditional food is a tasty mixture of Spanish and French cuisine. All the dishes are "must-try," but there are three names to remember: Escudella stew with pasta, pulses, and vegetables; Cargols oven-cooked snails with garlic mayonnaise and Crema Andorra, Andorran interpretation of French crème brûlée for dessert. 
Where to stay
One of the best places to enjoy Andorra la Vella is the open terrace of the hotel Best Andorra Center with a mountain view. 
The hotel, built in La Casa de la Vall style, is a great choice to feel the mood of ancient Andorra with modern, comfortable amenities. 
Located in the historical part of the city, the hotel is decorated in traditional style with maximum comfort. 
Kraków, Poland
The second-largest city of Poland and UNESCO World Heritage site is known for its fairytale views that survived World War II and still bear the bitter memories of the Jewish ghetto and Auschwitz-Birkenau concentration camp. Still, Kraków will indeed become your favorite destination you would like to explore over and over again. 
Where to go
Let's start our trip from Rynek Główny (Main Square), one of the largest and most impressive medieval squares in Europe. Take a short walk from the square to the Cloth Hall (trading hall existed since 1200) and 14th century St Mary's Basilica. One of the most amazing places in Kraków is the Wawel Castle of the 13th century in Romanesque and Baroque style. 
What to see
Every corner of Stare Miasto (Old Town) is worth admiring, and a simple walk can turn into a historical journey. Head to the Jewish Quarter of Kraków that once was a separate town for the Jewish community. The place has its unique vibes with fantastic architecture and places to visit. 
Another must-see place is the Slowacki Chamber, Wieliczka Salt Mines below the city. Today it is a museum with unique sculptures curved in subterranean passages. 
What to eat 
Polish cuisine is "colorful" and versatile, so let's not waste a minute and start the gastro tour in Kraków with Pierogies, Polish dumplings filled with mushrooms, cabbage, meat, or sauerkraut. Bigos or Hunter's Stew with meat and veggies, and finish your dinner with Sernik, Polish cheesecake with farmer cheese twaróg. 
Where to stay
Located not far from the Jewish District and Schindler Factory Museum, Lwowska 1 hotel is a gorgeous place to enjoy the city and have a comfortable stay. 
The modern design interior and decor of the hotel, the dramatic combination of structures and materials make this hotel a fantastic place to stay.
A few minutes walk from the Main Market Square of Kraków, Vienna House Andel's Cracow is a modern 4-star venue with designer rooms and a gorgeous terrasse with a panoramic view of the Old Town. 
Conclusion
You can now open your eyes; our virtual tour is over. There is still so much more to explore on this planet, and we will help you find the best place to find your tranquility.