Ayia Napa is a popular tourist destination located on the eastern coast of Cyprus, known for its stunning beaches and lively atmosphere.
A vacation in Ayia Napa includes the perfect combination of relaxation and entertainment, with plenty of opportunities to soak up the sun, swim in the crystal-clear waters of the Mediterranean, and explore Cypriot culture and delicious cuisine.
Enjoy Ayia Napa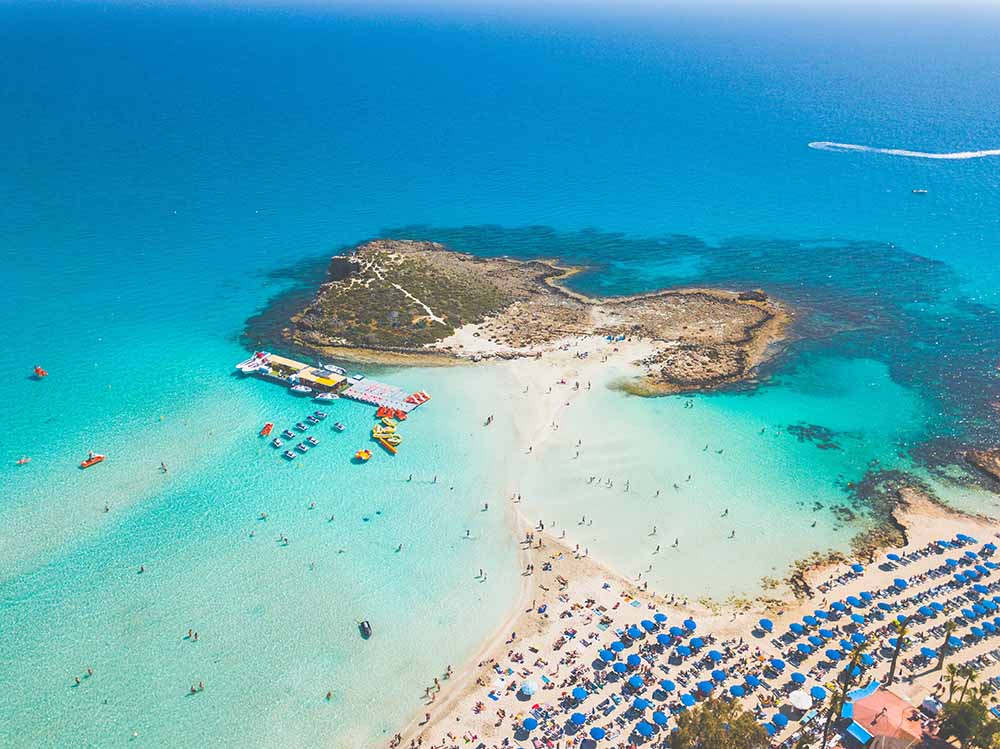 Visitors can enjoy a variety of water sports, such as jet skiing and parasailing, or simply unwind on one of the many pristine beaches of Ayia Napa. In the evenings, the town comes alive with bars, clubs, and restaurants, letting the travelers enjoy the active atmosphere.
Budget and comfortable hotels in Ayia Napa
Here we have chosen a range of hotels located in the neighborhood of Ayia Napa based on specific criteria, including favorable breakfast options, room costs, and guest reviews.
Hotels in Ayia Napa were selected by the following criteria:
Close to beach
Review rating 8+
Breakfast included
Not expensive
Comfortable rooms
Tofinis Hotel Ayia Napa
Napa Plaza Hotel (Adults Only)
Melpo Antia Hotel & Suites
Nissiana Hotel & Bungalows
Vassos Nissi Plage Hotel & Spa
Amavi, MadeForTwo Hotels – Paphos
Limanaki Beach Hotel & Suites
Faros Hotel Ayia Napa
Euronapa Hotel Apartments
Nicholas Color Hotel
Okeanos Beach Boutique Hotel
Aktea Beach Village
Pavlo Napa Beach Hotel
Bellini Hotel Ayia Napa
Corfu Hotel Ayia Napa
Napa Mermaid Hotel & Suites
Nestor Hotel
La Casa Di Napa Apartments
Blue Harbour Boutique
MARGADINA HOTEL
Marina Hotel Ayia Napa
Melissi Beach Hotel & Spa
Get to Ayia Napa
There are several ways to get to Ayia Napa, depending on your location and budget.
If you are arriving in Cyprus by air, the nearest airport is Larnaca International Airport, which is located about 45 minutes away from Ayia Napa by car. There are several regular and charter flights to Larnaca, especially in the summer season. From Larnaca, you can take a taxi or a shuttle bus to Ayia Napa.
If you are already on the island of Cyprus, you can also take a bus from various cities such as Larnaca, Limassol or Nicosia, which will take you directly to Ayia Napa. Additionally, you can rent a car or hire a private transfer service to take you to Ayia Napa from any location on the island.
If you prefer traveling by sea, there are ferries and catamarans that operate from several cities in Greece, such as Athens and Crete and arrive in the nearby port of Famagusta. From there, you can take a taxi or a bus to Ayia Napa.