Bergen is a coastal city in western Norway, known for its stunning natural beauty, breathtaking sights, and cultural heritage. Surrounded by fjords, mountains, and waterfalls, Bergen offers breathtaking scenic views and opportunities for outdoor activities.
The city is also famous for its well-preserved wooden buildings, churches, and museums, as well as its thriving music and arts scene. With its delicious seafood, friendly people, and unique architecture, Bergen is a must-visit destination for anyone looking for a truly authentic and memorable experience in Norway.
Why you should fly to Bergen?
Scenic beauty: Bergen is surrounded by stunning natural beauty, including fjords, mountains, and waterfalls, which can be best experienced from the air.
History and culture: Bergen has a rich history and cultural heritage, reflected in its well-preserved wooden buildings, churches, and museums.
Seafood: Bergen is known for its fresh and delicious seafood, including salmon, cod, and mussels.
Music and arts: The city is home to several cultural events and festivals throughout the year, including the Bergen International Festival and the Bergen International Film Festival.
Outdoor activities: Bergen offers a variety of outdoor activities, such as hiking, fishing, kayaking, and skiing, making it a great destination for adventure seekers.
Nightlife: Bergen has a thriving nightlife scene, with a range of bars, clubs, and live music venues to suit every taste.
Convenient location: Bergen is well-connected to other parts of Norway and Europe, making it easy to explore other destinations from there.
Friendly people: The people of Bergen are known for their friendly and welcoming nature, making it a great place to visit for a truly authentic experience.
Unique architecture: Bergen is famous for its unique and colorful wooden buildings, which make for a distinctive and charming cityscape.
Year-round destination: Bergen is a destination that can be enjoyed throughout the year, with each season offering its own unique attractions and experiences.
The bucket list of Bergen will give you practical information for planning your to-dos at the place.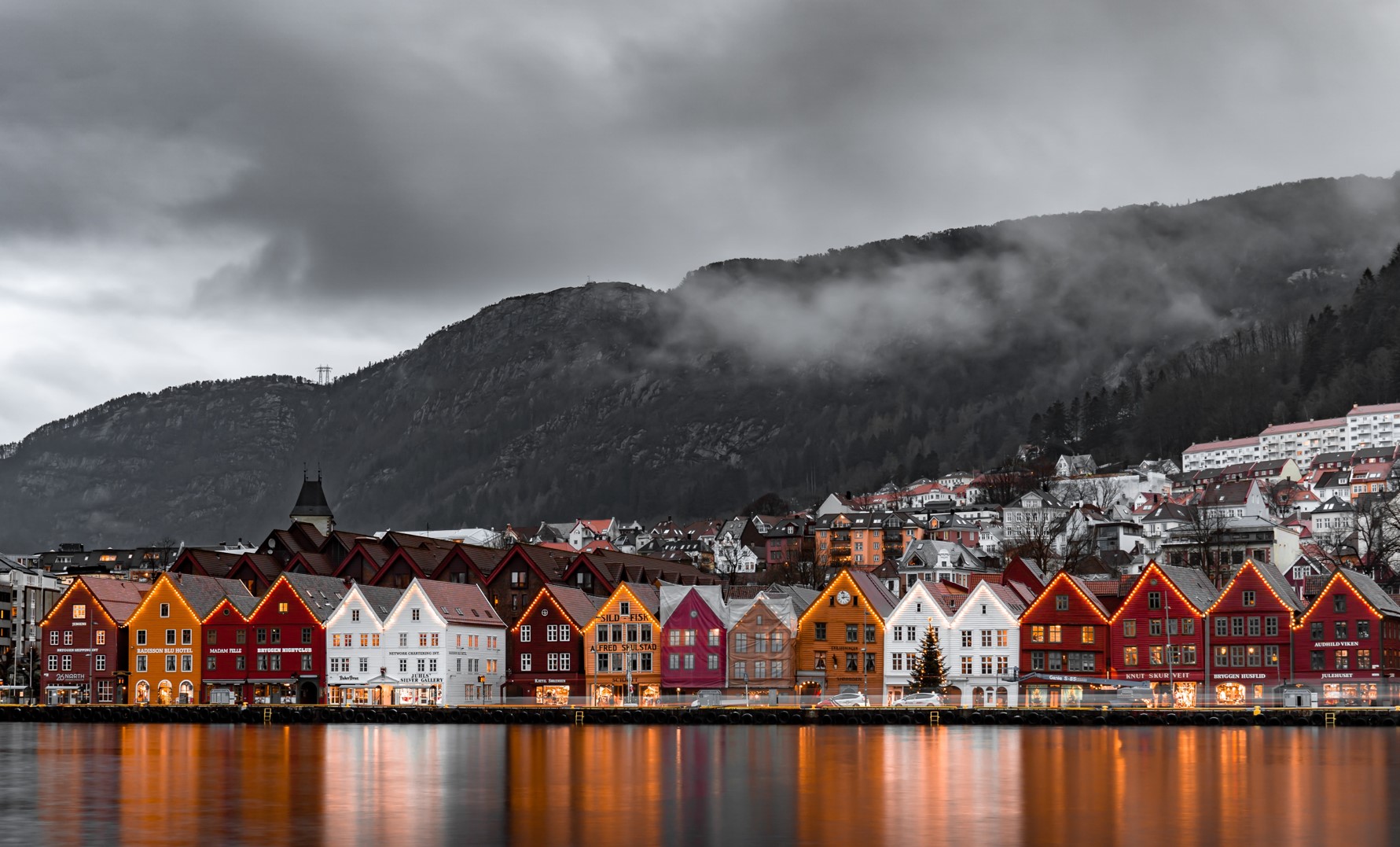 Fact point about Bergen

Bergen once was the largest city in Norway and one of the most important ports in Northern Europe during the Hanseatic League era in the Middle Ages. The Hanseatic League was a powerful commercial and defensive alliance of trading cities and their guilds, which dominated trade along the coasts of Northern Europe from the 13th to the 17th centuries. Bergen played a major role in the league, and you can still see the evidence of its prosperity in the well-preserved wooden buildings of the UNESCO-listed Bryggen Wharf, which is now a popular tourist destination.
Who travels to Bergen?
Bergen attracts a diverse range of visitors, including tourists, business travelers, and students. The city is particularly popular among those seeking natural beauty, history and culture, and outdoor activities.
If you're considering a trip to Bergen, Norway, it's a good idea to research your flight options and compare prices. You can find the most convenient flights to Bergen from your location, as well as the cheapest airfare, by browsing various travel agencies and online reservation platforms. It's also wise to compare prices for hotels in Bergen to ensure you get the best deal on your trip.
How to find the best dates for flights to Bergen?
You can use the low-cost flight calendar to discover the optimal dates for flights to Bergen. Here you can quickly compare all travel agencies, reservation platforms, and airlines for searching for cheap flights to Bergen.
How to use cheap flights calendar?
Select your location from the top left side of the calendar
See the cheapest price for each month for the flight from your location
Click on the month window to see the exact date of the cheapest flight
You can click on the date window to see the flight details
Click on the flight details button to see full terms of the flight or book the air ticket
You can use the setting on the top left side of the calendar to change the type of flight (one-way or two-way)