Love is the most wonderful gift of life we are awarded. It is pure and unconditional; it can cure and give you wings to fly for a romantic trip. And how blessed you are when you find the extraordinary one ready to share life for better, for worse, for richer, for poorer, in sickness and in health, to love and to cherish you. And how lucky you are to spend the most romantic Valentine's day with your beloved one somewhere secluded. You have love, and we got the top eight selected romantic trip destinations to spend your Valentine's Day.
Lake Como, Italy for romantic leisure
Two loving hearts can create romance anywhere, but why deprive yourself of the simple pleasures of enjoying nature? Lake Como is one of the places that may turn your Valentine's day into the most romantic memory.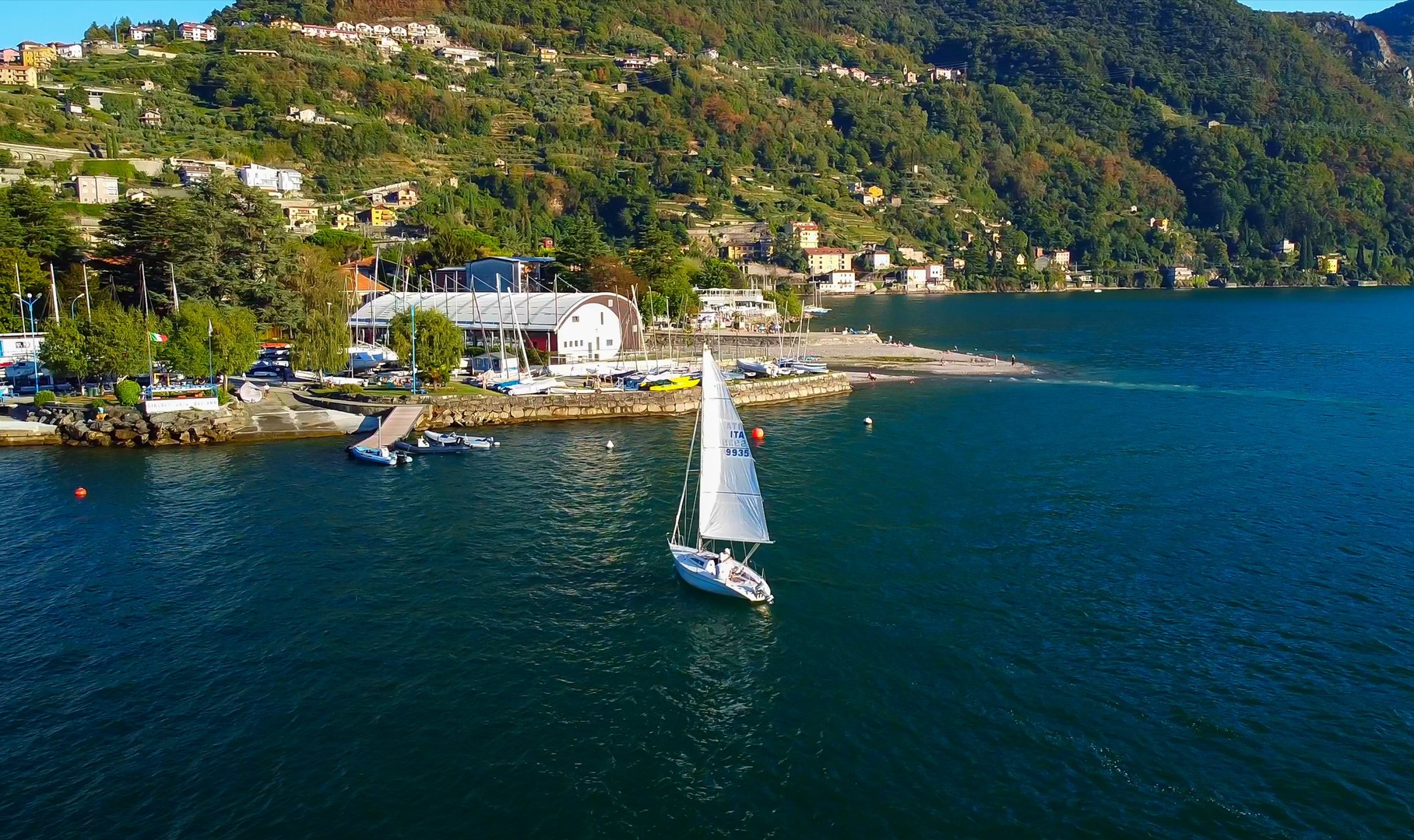 Located in the north of Italy, the lake stretches 146 square kilometers in the Lombardy region, surrounded by lush forests and Como town, cute European villages, and stunning sunset views.
Where to go in Como
The favorite place of couples in Lake Como is Menaggio, the lakeshore promenade decorated with beautiful flower beds and palm trees. Every season has its romance, and a calm refreshing wind of February will only make you hug each other tighter and enjoy the view of the lake and the mountains.
Take a boat day trip around the Como, rest on the shore, and organize a picnic with snacks and wine on Comacina Island and small-town Varenna. Finally, prepare authentic Italian pasta for two in Cesarine, Italy's oldest home cooks' network, and enjoy your romantic dinner on the terrace.
What to taste in Como
Traditional dishes on Lake Como are all about fish dishes. The top popular one is Risotto con Filetti di Pesce Persico, served with pasta dough with butternut, parmesan, and sage. Insalata Caprese is a traditional Como Lake salad with tomato, mozzarella, and dressings. Finally, sweeten your day with Fragole con Gelato, fine Italian ice cream with strawberries.
---
Exciting as it may be, traveling to a foreign country can also be intimidating at times. It is very uncertain when it comes to traveling to a new place, not knowing what to expect when you get there. Check our tips for the trip planning strategic steps for a better travel experience to any destination in the world.
---
The Island of Santorini, Greece, for a romantic trip
The Island of Santorini is the winner in the number of couples, honeymoons, and romantic trips. We may even call it the Island of Love and Romance because every corner is made for perfect love confessions.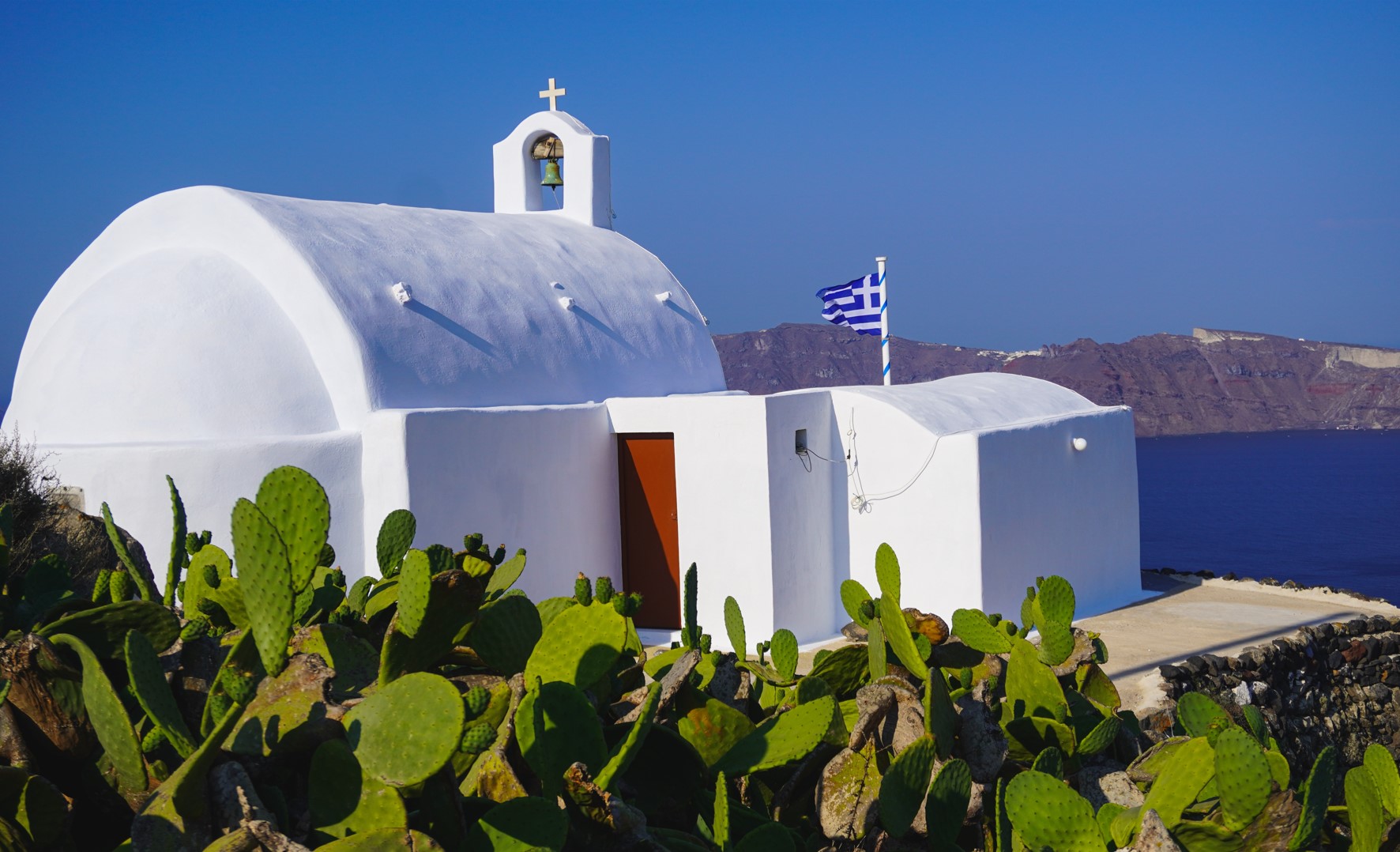 The eclectic blue skies and the land of Santoniri, one of the islands of Greece in the southern Aegean Sea, could have been home for gods and poets because the place is too divine to be terrestrial. Hold the hand of your loved one, and let's explore Santorini.
Where to go in Santorini
When it comes to love and Valentine's day, Oia is the first place to visit. You have probably seen photos of a white-washed village in Santorini with narrow paved alleys. It is Oia where even the air is soaked with romance.
What a holiday without a glass of wine and a toast? Visit Imerovigli to taste the local wine, Greek flavors and embrace the most beautiful sunsets. Spend the last day of your trip in Akrotiri, the precious archeological site uncovering ancient Greek tales.
What to taste in Santorini
Taste everything you are offered because the food in Santorini is as good as its sights. Start your degustation with Tomatokeftethes, a unique variety of tomatoes fried with onion and mint. Seafood in Santorini is always fresh and exceptionally tasty, so make sure to spice up your dinners with fried calamari, mussels, and fish. And, of course, we wish you a lot of wine with cheese and olives.
[tp_in_our_city_fly_shortcodes destination="JTR" limit="6″ stops="0″ subid="toCity" locale="en" currency="EUR" paginate="true" off_title="false" disable_header="false"]
Greece – a wonderful country with amazing sights, crystal clear beaches, best hotels and historical places, the dream country of every traveler․ Do you love Greece? See the TOP 7 popular and beautiful cities in Greece designed by our experienced authors.
Venice, Italy, for romantic trips and memorable places
The romantic views change each other, and we continue looking for new romantic destinations for Valentine's Day. Our next stop is Venice, the gateway to true romance. While the place already oozes romance without looking for places to create the mood, we still have prepared some ideas where you can create memorable moments in your love story.
Where to go in Venice
Take a gondola ride hugging your love and exchanging sweet nothings for an hour or two, admire the city's architecture and canals, and the secluded Dorsoduro part with a bohemian vibe. If you are lucky, your gondolier will sing serenades for you. Make a stop at Teatro La Fenice to watch an opera and praise the heavenly luxurious architecture of the theatre. Glide down the Grand Canal watching the sunset and finish one of your best days dining in Cantina do Spade, a 600-year-old trattoria where famous Casanova used to visit with his girlfriends.
[tp_in_our_city_fly_shortcodes destination="VCE" limit="6″ stops="0″ subid="toCity" locale="en" currency="EUR" paginate="true" off_title="false" disable_header="false"]
What to taste in Venice
To feel the taste of Venice spiced up with your love and emotions, take a gastro tour with traditional dishes. Taste Baccalà Mantecato, traditional stockfish dish, Cicchetti for a fast and tasty snack, and order Lasagnette Con Nero Di Seppia as the main dish.
Tuscany, Italy for wine and the best romantic restaurants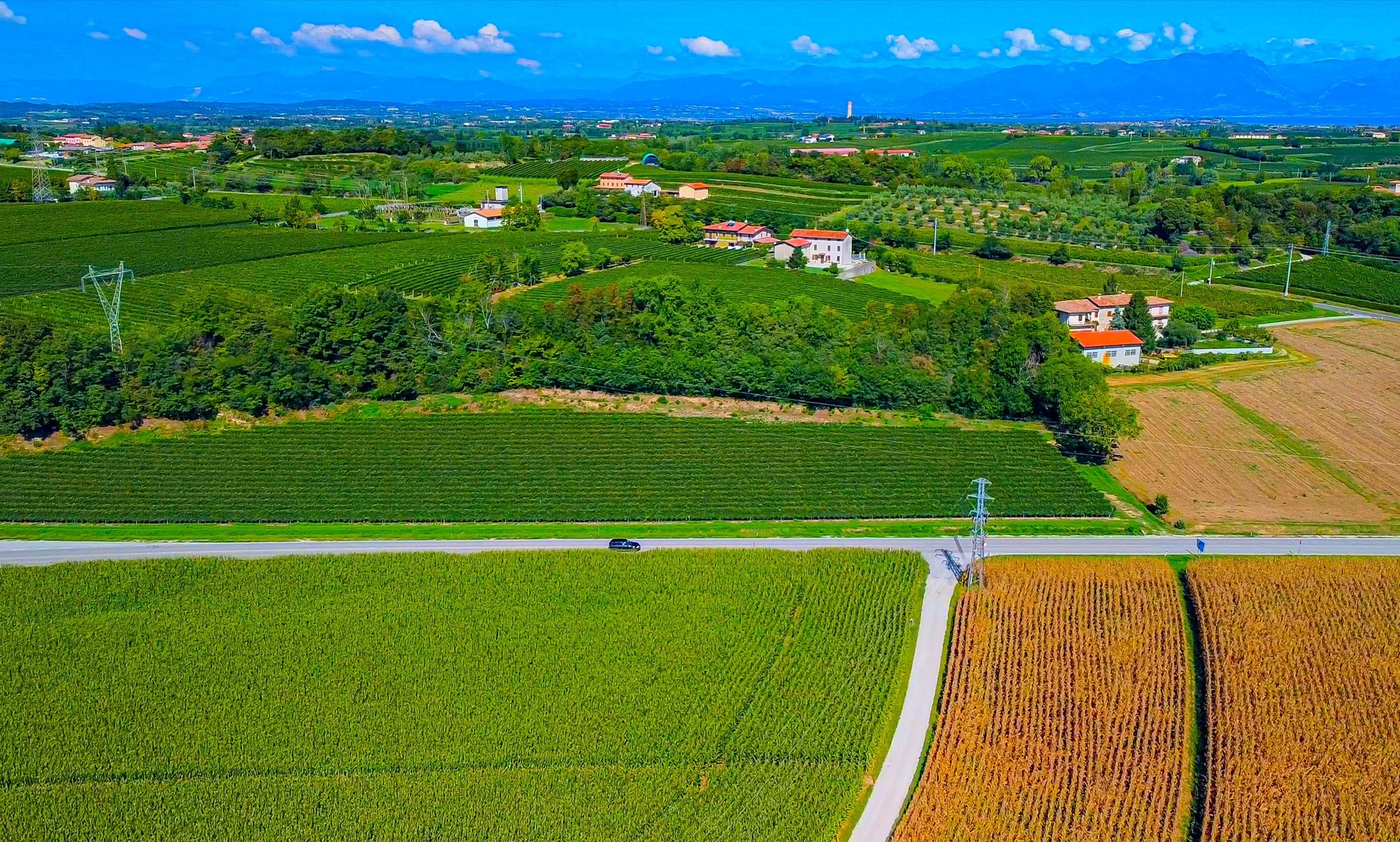 Again, we are in Italy, the country where your love will get more passionate and intense. Tuscany is another romantic destination to spend your Valentine's Day, the land where you can get drunk in love and wine. Tuscany is known for its breathtaking views, unimaginable blue skies, savory flavors, and unique architecture. Let's find some romantic restaurants in the towns of Tuscany and drink some wine.
Where to go in Tuscany
Tuscany is the land of most romantic towns. Florence with Piazzale Michelangelo is your first destination with a romantic encounter and a panoramic terrace overlooking the city. Have a glass of wine in Alle Murate restaurant, an atmospheric basement with historic ambiance and taste. Pienza is another place where the streets of the Renaissance speak the language of love. Finally, have dinner and add some new memories from Pienza in the La Terrazza di Chiostro restaurant.
What to taste in Tuscany
Don't leave Tuscany without tasting Panzanella, summer bread salad with vegetables, Pappa al Pomodoro tomato soup with garlic and basil, and Castagnaccio traditional cake served both warm and cold.
[tp_in_our_city_fly_shortcodes destination="FLR" limit="6″ stops="0″ subid="toCity" locale="en" currency="EUR" paginate="true" off_title="false" disable_header="false"]
Out of Europe: In a lonely tropical paradise island of Seychelles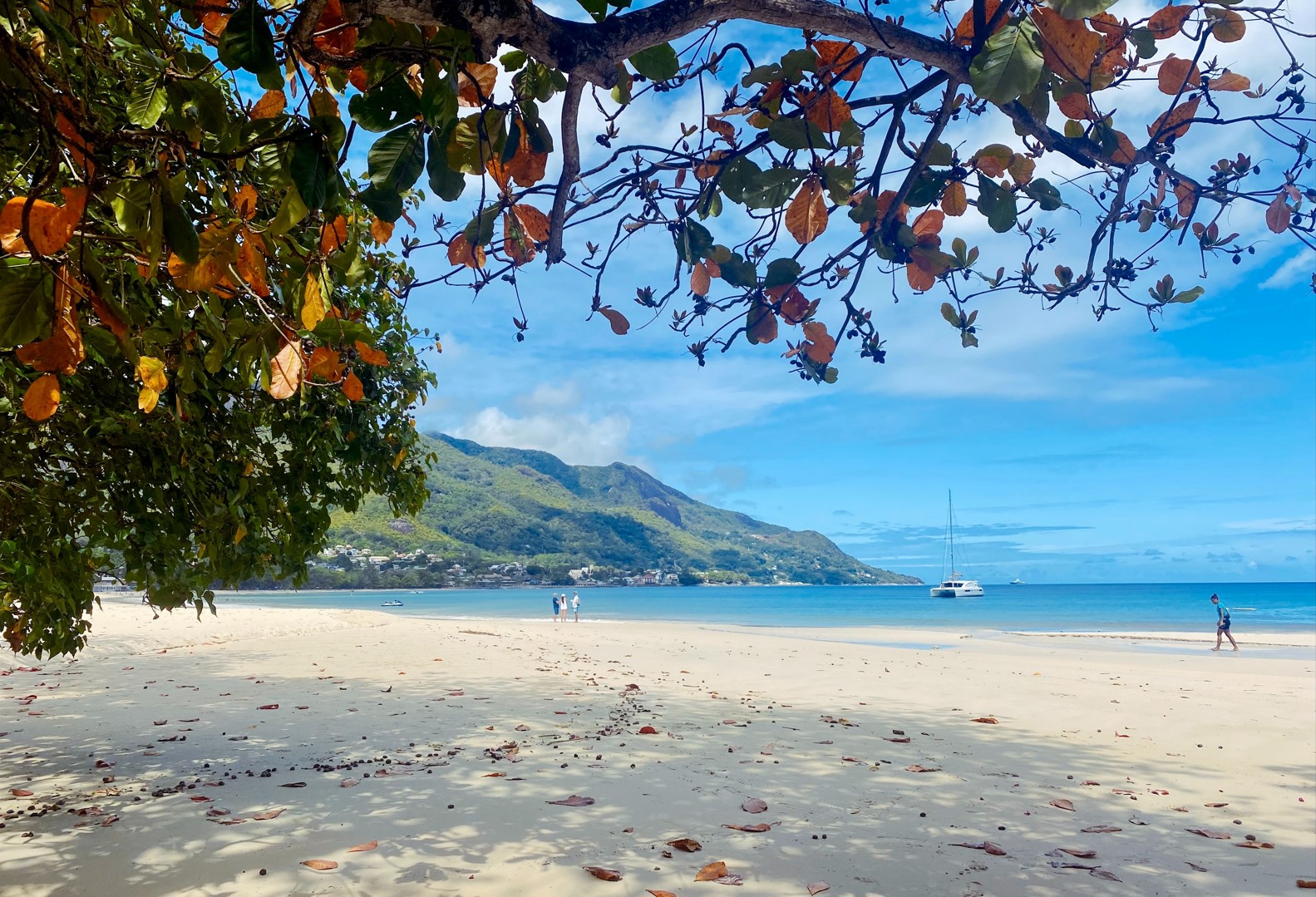 Let's leave Europe and the beauty of ancient cities for a while and head to a true paradise, the island of Seychelles, where everything seems more beautiful. Being one of the top choices for a honeymoon, the destination is a luxurious secluded place to celebrate St Valentine's Day.
In the Indian Ocean, 115 small islands offer glimmering white sand beaches, luxurious hotels with delicious food, and kind people.
Where to go in Seychelles
Anywhere you go, you will see breathtaking views of the beach and palm trees, the sky that blends with the sea at the horizon, and unspoiled nature in the back. From 115 islands, it is worth visiting Praslin Island and the national park, Mahe Island, and Seychelles capital, and taking a beach horse riding on Félicité Island.
What to taste in Seychelles
Seychelles' traditional food is freshly caught fish cooked with spicy curries, sweet fried bananas, and locally grown tropical fruit that grows all year round. Try all the fish dishes offered, coconut curry and breadfruit.
Out of Europe: Somewhere on the beaches of Barbados
And yet another paradise in your must-visit list of romantic places is Barbados, or simply the synonym of romance. With beach hotels, pure sand, translucent waters, and palms, Barbados may become the missing puzzle in your love story.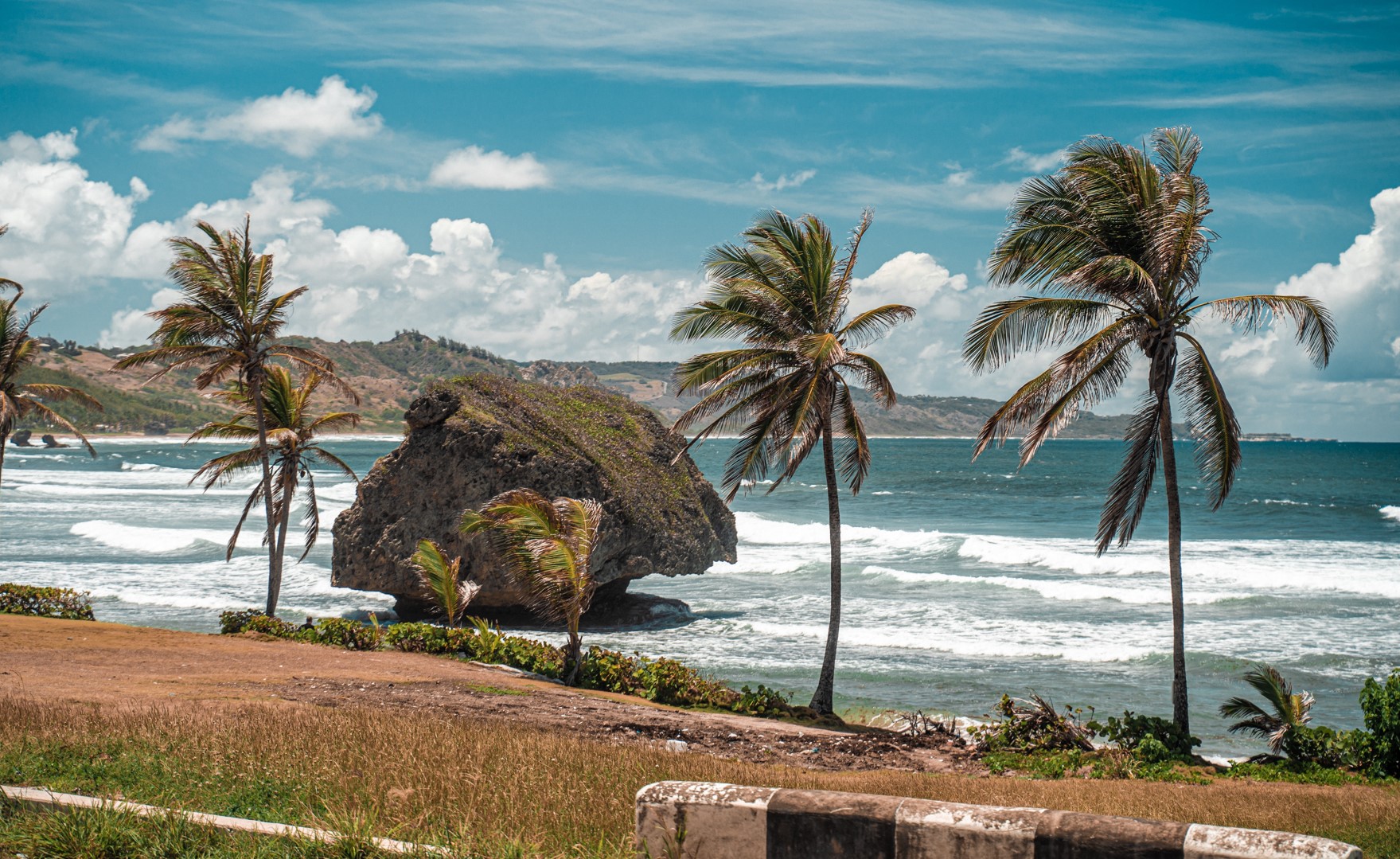 Where to go in Barbados
Organize your Caribbean escape with your loved one and enjoy the hot sun in the middle of February because Barbados always embraces guests with a summer romance. Besides enjoying your stay in Barbados, you can take an island safari tour, visit St Nicholas Abbey, a beautiful Jacobean mansion on the island and dive into the nightlife of Barbados.
What to taste in Barbados
Traditional food on the island is fresh fish and seafood, flying fish, fish cake, Mahi Mahi, and more. Don't miss Guava cheese, Cassava Pone, rock cakes, sweet bread, and other deserts.
[tp_in_our_city_fly_shortcodes destination="BGI" limit="6″ stops="0″ subid="toCity" locale="en" currency="EUR" paginate="true" off_title="false" disable_header="false"]
Cinque Terre, Italy for romantic places, good weather, and restaurants
The third and the last romantic destination in Italy is Cinque Terre, "Five Lands," the coastal region in Liguria. Cinque Terre looks like an image from a postcard; tiny colorful houses on the cliff and up the hill, deep green contrasting on the blue and teal shades of water and sky take your breath away.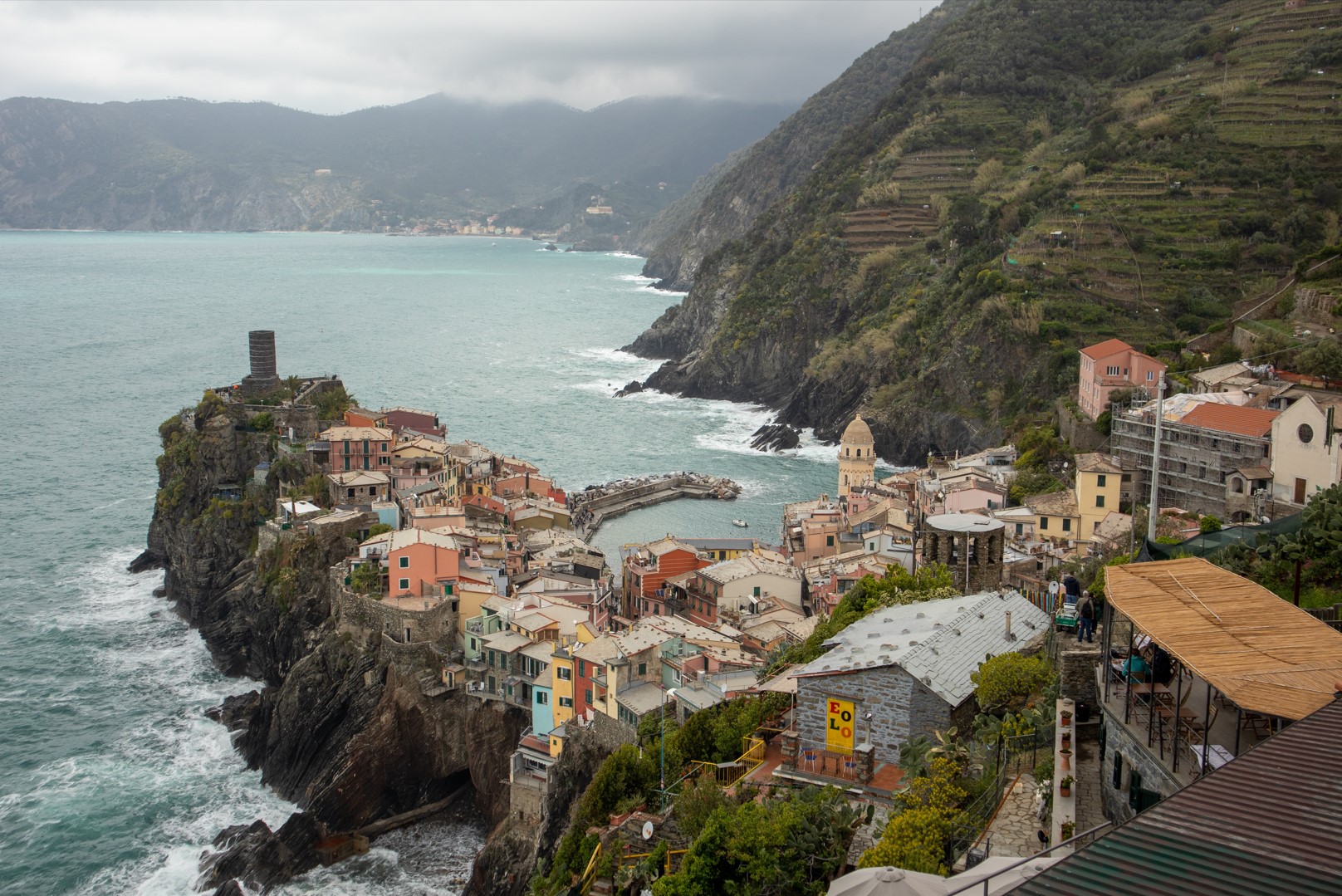 Where to go Cinque Terre
If you have already watched Pixar's "Luca," you will find scenes of the town recreated one on one in the cartoon. So the tour can be built on the cartoon scenes. Cliff jumping in the cartoon? Check! And cliff jumping in real life? Check! Test the power of your life by joining hands and jumping from the cliff to the Mediterranean Sea. Enjoy afternoon delight and evening fests with a glass of wine and the most romantic nights.
What to taste in Cinque Terre
Everything seems tastier and more attractive in such a beautiful and romantic place. The region of Liguria is the birthplace of pesto; in Cinque Terre, it is served with trofie pasta, green beans, focaccia, and potatoes.
Sintra, Portugal, for a romantic atmosphere and food/drinks
The final but definitely not the last place to visit on St Valentine's Day is Sinta, Portugal. Wow, just look at the photos. Isn't the place fantastic and unreal?
Sinta, also called the "Capital of Romanticism," is a beautiful village surrounded by lush green woods.
Where to go in Sintra
Your romantic stay in Sintra will be all about hiking in the mountains and woods, visiting historical sights, and enjoying magnificent sunset views. For a more impressive view, go to the west of Sintra, Cabo da Roca, the impressive cape with a lighthouse that marks the westernmost point of continental Europe.
What to taste in Sintra
It is Portugal, and you are welcome to enjoy every dish on your menu. Travesseiros, the original Sintra treat, is a puff pastry with cream and almonds. Queijada is another traditional Portuguese pastry served with oranges and coconut.
[tp_in_our_city_fly_shortcodes destination="OPO" limit="6″ stops="0″ subid="toCity" locale="en" currency="EUR" paginate="true" off_title="false" disable_header="false"]
Keep your mind alive…
What a beautiful trip is full of love and romance! St Valentine's Day has never been so memorable and emotional. If you want more ideas and romantic destinations for your honeymoon or anniversary, stay with us; we have so many ideas and so many places yet to explore.
You can check also our story, especially for wine lovers and gastro tourism funs: 6 wine travel destinations for wine lovers in Europe