Looking for coworking spaces in Amsterdam? Welcome to the complete guide of Amsterdam coworking spaces, which includes some of the best available options for solo or team work. As one of Europe's leading startup hubs and home to a thriving community of freelancers, Amsterdam offers a range of affordable and flexible coworking spaces for entrepreneurs, freelancers, and remote workers alike.
From stylish coworking spaces in the heart of the city to more relaxed options on the outskirts, this list has got you covered. So whether you're looking for a space to collaborate with others, or simply a quiet place to get some work done, you'll find the perfect workspace in Amsterdam with the help of this guide.
Coworking Spaces in Amsterdam
If you're a digital nomad, freelancer, remote worker, or part of a team looking for affordable and comfortable coworking spaces in Amsterdam, you'll find everything you need in this comprehensive list. We've included all the essential details, such as daily and monthly prices, facilities provided, kitchen access, neighborhood information, and more, for each coworking space listed here.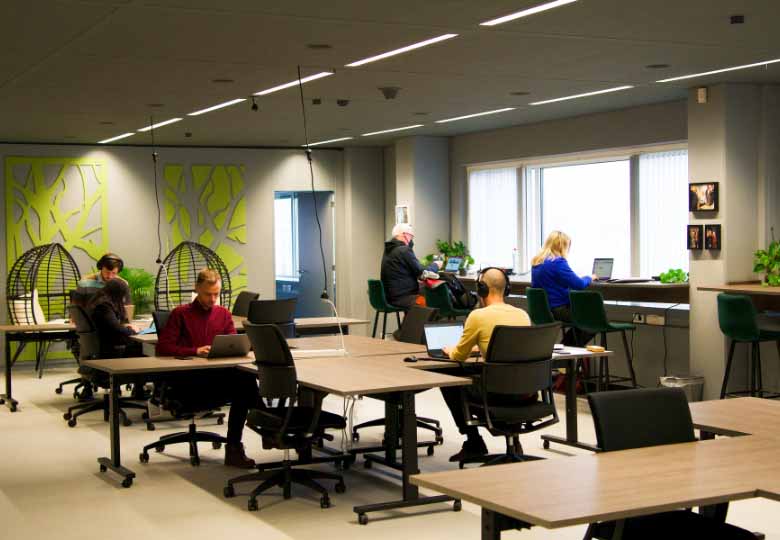 Hyperion Lab was created with the aim of developing eco-friendly AI solutions that can positively impact and motivate individuals and organizations.
Neighborhood: Zuid and Zuidoost
Address: At Laarderhoogtweg 18, 1101 EA
Facilities: Restaurant, reserved car parking, lounge, a meal with a discount
Kitchen: Free coffee and tea
Price: 
Flex Desk: €100/month

Dedicated Desk: €200/month
Open hours: 24/7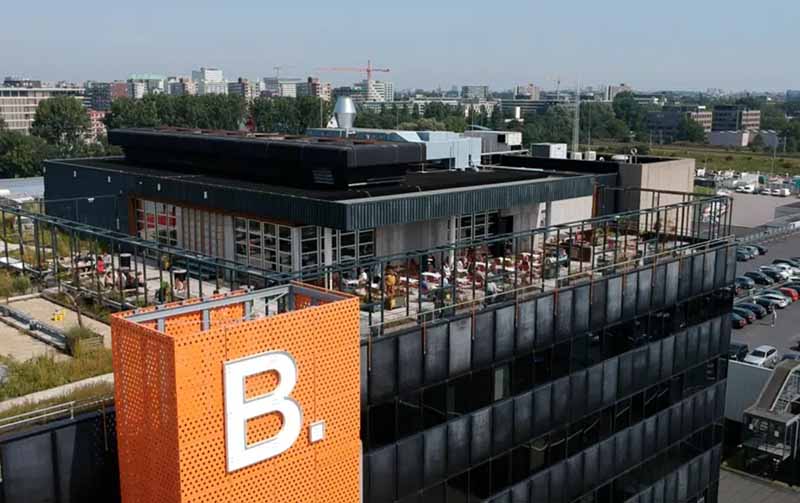 Amsterdam offers the largest workspace, divided into three buildings with a unique ecosystem of authenticity, fun, and dynamics.  
B. Amsterdam is a pioneering co-working concept in the Netherlands, located in the Riekerpolder business area. The B. refers to a bee, symbolizing the importance of a healthy ecosystem. Originally owned by IBM, their logo's B was also a bee. The B. stands for "plan B" or "business" and now encompasses three buildings totaling 40,000 m2 of offices, workspaces, and event spaces. The smart city hub also offers 24,000 m2 for logistics parties and urban farming. With over 250 members, B. Amsterdam provides more than just a workspace, offering lounges and common areas for its community.
Locations: B.1, B.2, B3
Facilities: Lounge, free parking
Kitchen: Free coffee and tea
Price: 
Flex: €90/5 days

Fixed Desk: €255/month
Open hours: Depends on the location
StartDock Coworking Herengracht is one of the five StartDock workspaces in Amsterdam, offering a community-driven venue to help startups and entrepreneurs grow.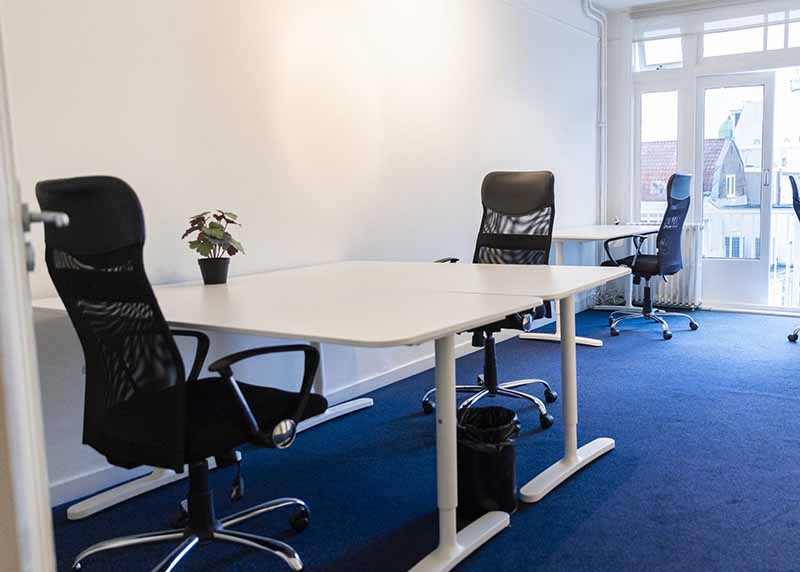 Located on Herengracht, StartDock coworking space is in close proximity to Koningsplein and Leidsestraat, where the city's pulse can be felt. Despite the bustling surroundings, inside the walls of StartDock, a serene environment prevails where almost one hundred entrepreneurs work hard in tranquility, having found their home in this location.
Neighborhood: Koningsplein
Address: Herengracht 420, 1017BZ te
Facilities: Meeting rooms access
Kitchen: Free coffee and tea
Price: 
Flexible Desk: €142,50/month

Dedicated Desk: €285/month

Shared Office Desk: €399/month

Private Office: €750/month
Open hours: Depends on the location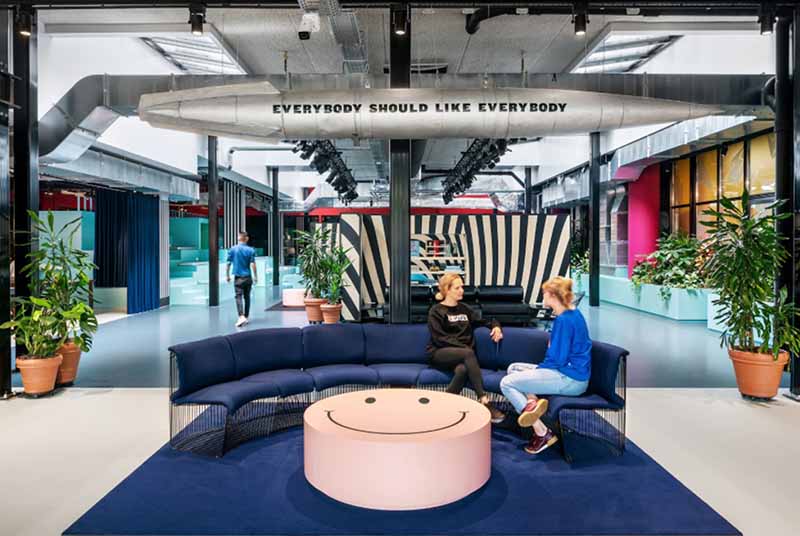 Part of the Student Hotel Family, TSH Collab Amsterdam is a lively coworking space that brings digital nomads together and offers unique perks. 
Locations: Amsterdam City, Amsterdam West
Facilities: Gym membership, all-inclusive student stay, hotel
Kitchen: Food and drinks discounts
Price: 
Flexible Membership: €99month

Dedicated Desk: €230/month
Open hours: 24/7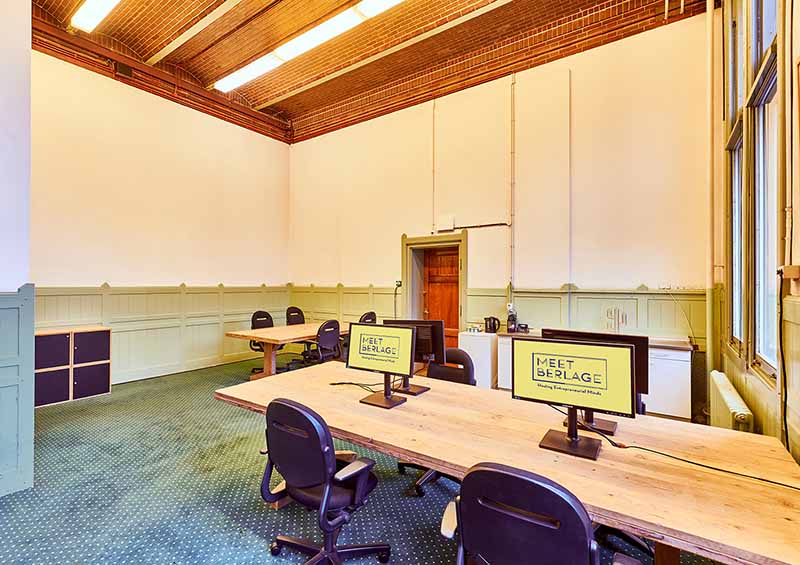 Occupying the prestigious Beurs van Berlage building, Meet Berlage is a popular venue for parties and special events that gather hundreds of digital enthusiasts. 
The co-working facility available at this site provides a variety of spaces that cater to different work styles. Whether you require a Meeting Space to collaborate on complex matters with undivided attention, a Training Space for hosting workshops, an Event Space for large gatherings, a Coworking Space for working alongside others in a bustling environment, a Desk Space to concentrate on individual tasks, or an Office Space for your team, we have all your needs covered.
Neighborhood: City Center
Address: Oudebrugsteeg 9, 1012JN
Facilities: Event spaces, a party space 
Kitchen: Available
Price: 
Prices are available upon request
Open hours: Monday-Friday, 9 am – 5 pm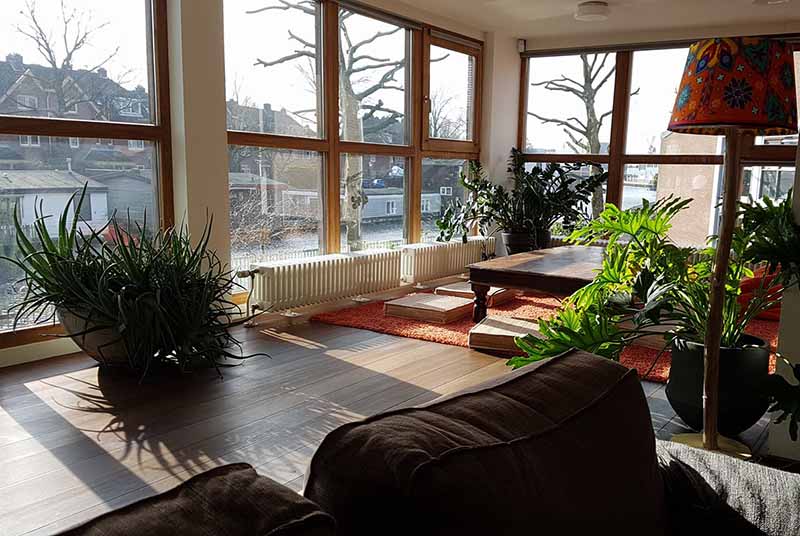 Located 5 minutes from Central Station, Treehouse Tribe is a great choice for anyone staying in the North district of Amsterdam to access a modern coworking space and community. 
Neighborhood: Noord
Address: Asterweg 20N, 1031 HN
Facilities: Friday game night, 
Kitchen: Weekly breakfast, coffee, and tea
Price: 
Single Membership: €175/month

Team Membership: €350/month

Scholarship Membership: €100/month

Happy Startup bundle: €193/month
Open hours: 24/7
The concept of this creative hub is to support entrepreneurs and digital nomads who seek networking platforms, modern facilities, and professional staff.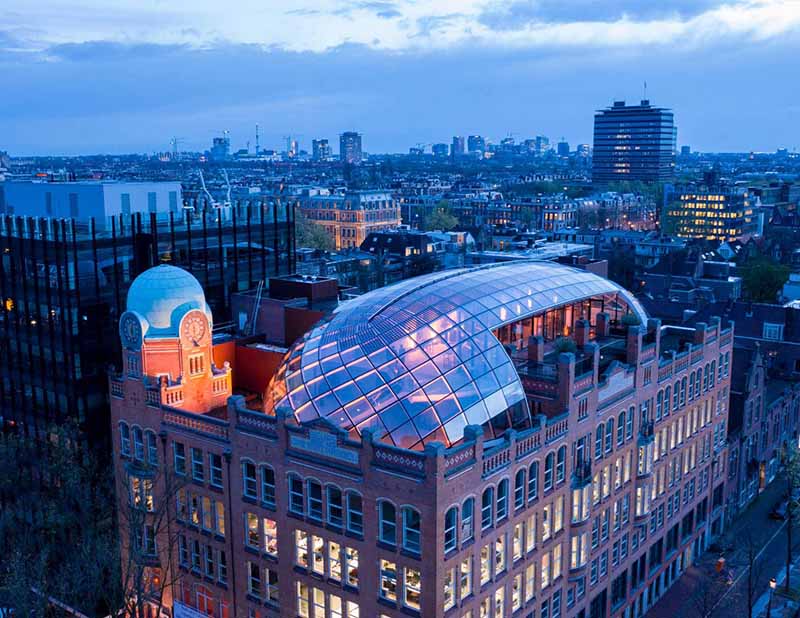 Capital C serves as a hub for individuals to gather, work, and collaborate, fostering connections between recent academy graduates and renowned creative professionals, facilitating partnerships between freelancers and agencies, and bridging the gap between creativity and commerce.
Neighborhood: City center
Address: Weesperlein 4B, 1018
Facilities: Dining room, bar, lockers, meeting rooms 
Kitchen: Coffee, tea, fruits
Price: 
Cowork: €175/month

Dedicated Office Space: €500/month
Open hours: 24/7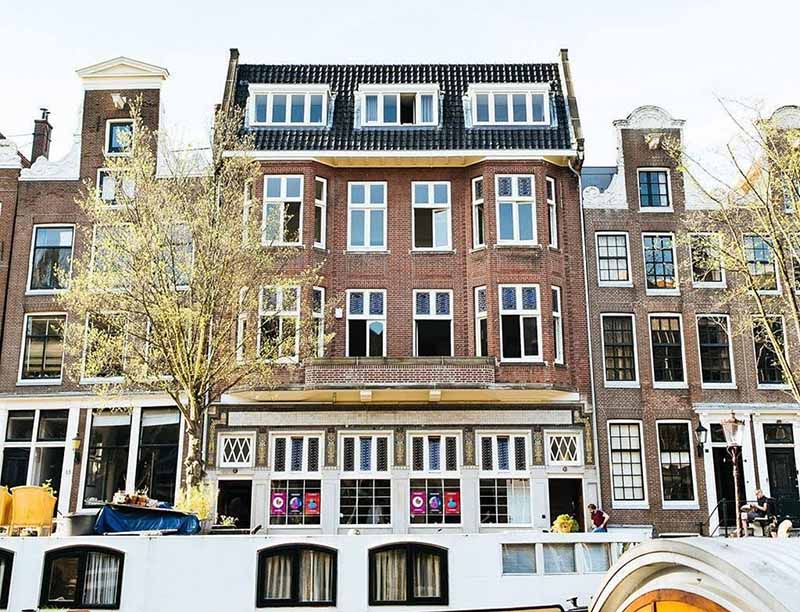 Located on one of the city's beautiful canals, Wheelhouse Amsterdam creates a comfortable working environment with all the amenities and perks.
Wheelhouse is a thoughtfully curated workspace catering to independent professionals in communications and media, strategically situated at the center of Amsterdam.
Neighborhood: City center
Address: Achtergracht 17-19 1017 WL
Facilities: Theater for events, private cinema 
Kitchen: Catering, barista, lunch, and coffee package
Price: 
Dedicated Desk: €350/month

Resident Desk: €420/month
Open hours: 24/7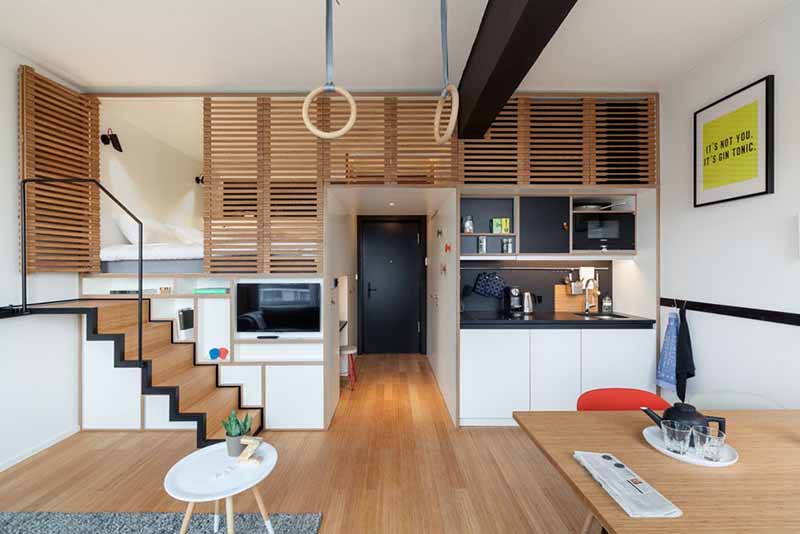 Zoku offers a residence for corporate travelers seeking to reside and work in a city for periods ranging from a few days to a few months.
The Zoku Loft represents a new benchmark in intelligent space utilization by offering a flexible home-office hybrid. This innovative concept combines an entire apartment's worth of spaces into a single, expansive dwelling, providing an ideal foundation for living, working, and collaborative endeavors.
Neighborhood: City center
Address: Weesperstraat 105, 1018 VN,
Facilities: Bar and restaurant (at a discount), coliving in lofts and rooms 
Kitchen: Living kitchen
Price: 
Prices are available upon request
Open hours: 24/7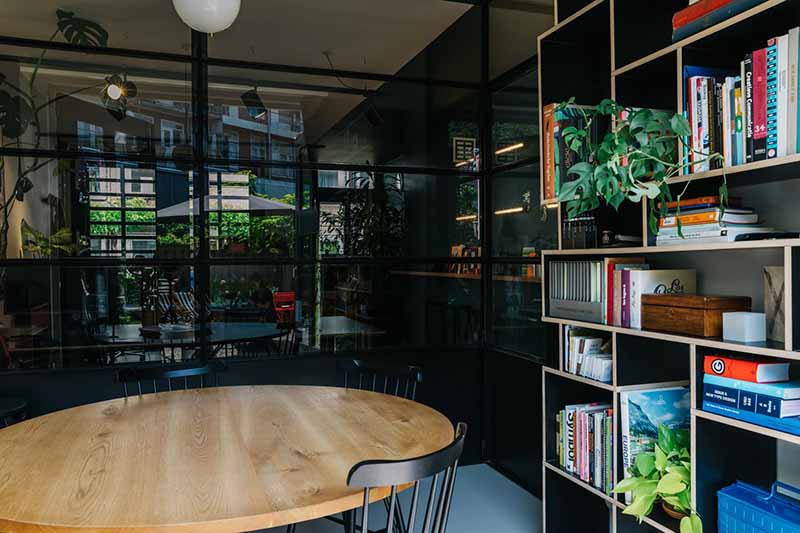 This creative membership-based coworking space provides all the comfort and mood for the community to work and create.
Neighborhood: West
Address: Chasséstraat 22H, 1057 JE
Facilities: Terrace, shelf space, conference room
Kitchen: Free coffee and tea
Price: 
Open hours: 24/7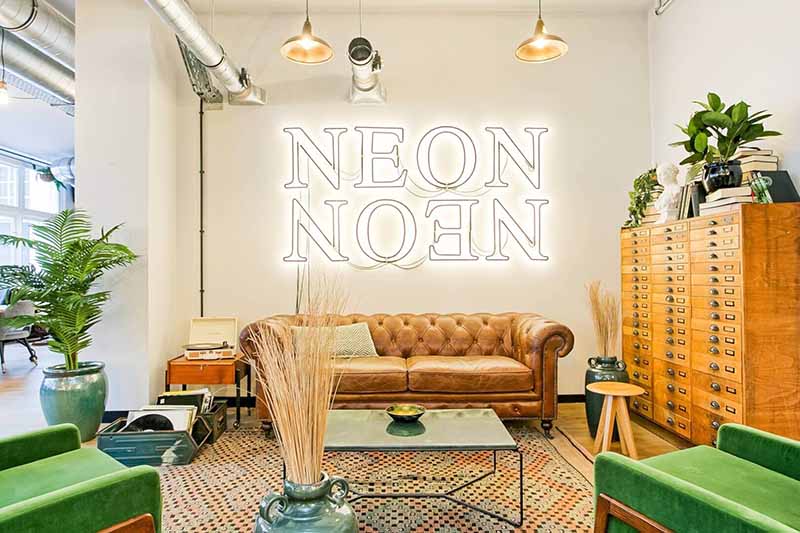 Mindspace, the global coworking brand, presents its concept in three different locations in Amsterdam for freelancers and teams of all sizes.
Located adjacent to Dam Square, the Mindspace coworking space is situated within a stunning, historic preservation building that previously functioned as a local bank dating back to 1888, boasting distinct features of Dutch Renaissance Revival architecture. Through the innovative flair of Mindspace, the space has been transformed into an exceptionally dynamic environment, providing ample room for teams of all dimensions to flourish.
Locations: Dam, Herengracht, House
Facilities: IT support, global access to Mindspace locations, lounges
Kitchen: Free coffee, soda, and refreshments
Price: The prices vary depending on the location
Open hours: Depends on the location
The Extra Mile is a professional workspace for creative talents who always go the extra mile for success. In its turn, the modern coworking venue provides all the amenities for community members to grow.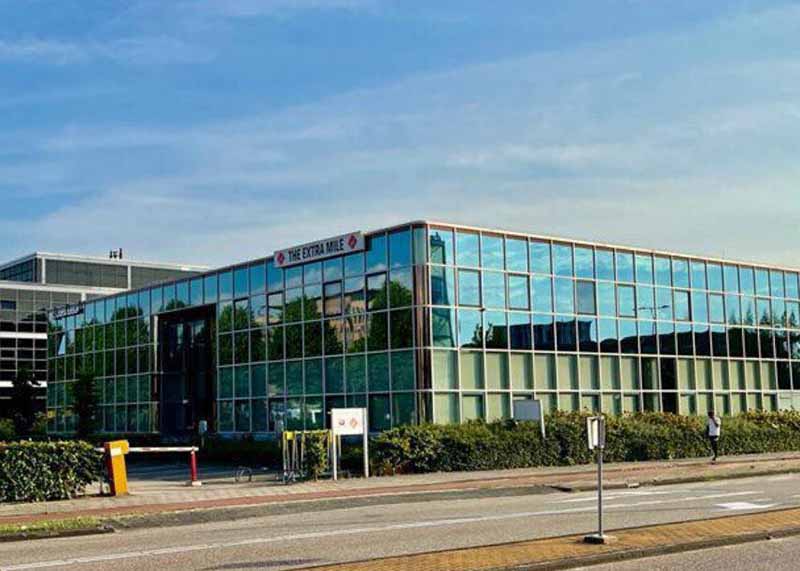 Neighborhood: Zuid and Zuidoost
Address: Hessenbergweg 8, 1101BT
Facilities: Lounge, free parking
Kitchen: coffee
Price: 
Flexible Workplace: €25/day

Membership: €200/month

Day office: €150/month
Open hours: 24/7
—
Disclaimer
Kindly note that the prices for the coworking services listed were accurate at the time of publication, but they may be subject to change in the future. If you find any discrepancies in the information presented, please inform us, and we will promptly verify and update the details.
Hereby we notify you that this material does not include any promotional content. The coworking spaces of Amsterdam featured in the list were selected based solely on their merits and suitability for our audience.
Check prices of flights to Amsterdam
Browse all hotels in Amsterdam on the interactive map