In this story, I'm going to tell about the most amazing Insta-spots or also known as instagrammable places of Malaga, Spain. Visiting the sights in Malaga is a must, even if you don't have an interest in photography and capturing picturesque moments. Regardless, these places are worth seeing and will provide a great experience.
An "Instagrammable place" (aka insta-spots) refers to a location or setting that is considered attractive, visually appealing, and ideal for taking photos to share on social media platforms, particularly on Instagram.
Malaga – city coming from history
Malaga is an ideal destination for photography enthusiasts, offering a variety of scenes to capture, from its charming old town to its modern city center, historic buildings, and castles, typical coastal areas with beachside bars, and much more.
Málaga has stood the test of time, having been founded over 2000 years ago and becoming one of the oldest Mediterranean ports. Its landmarks showcase its rich and diverse history, with evidence of different eras visible throughout the city.
From the remnants of a Roman theater to a medieval Moorish castle built on the site of a Phoenician lighthouse, the 13th-century Alcazaba, and a magnificent Baroque cathedral, Málaga's heritage can be observed at every turn.
10 Insa-Spots in Malaga
In addition to its cultural attractions, Málaga boasts the breathtaking beauty of the Costa del Sol and its warm climate, along with its stunning beaches. Seaside promenades are lined with lush palm trees and tropical vegetation can be seen throughout the city, making Málaga a paradise for nature lovers.
So let's go and see what are the super sights and insta-spots in Malaga that are worth checking up at the time of your trip or vacation.
Alcazaba de Málaga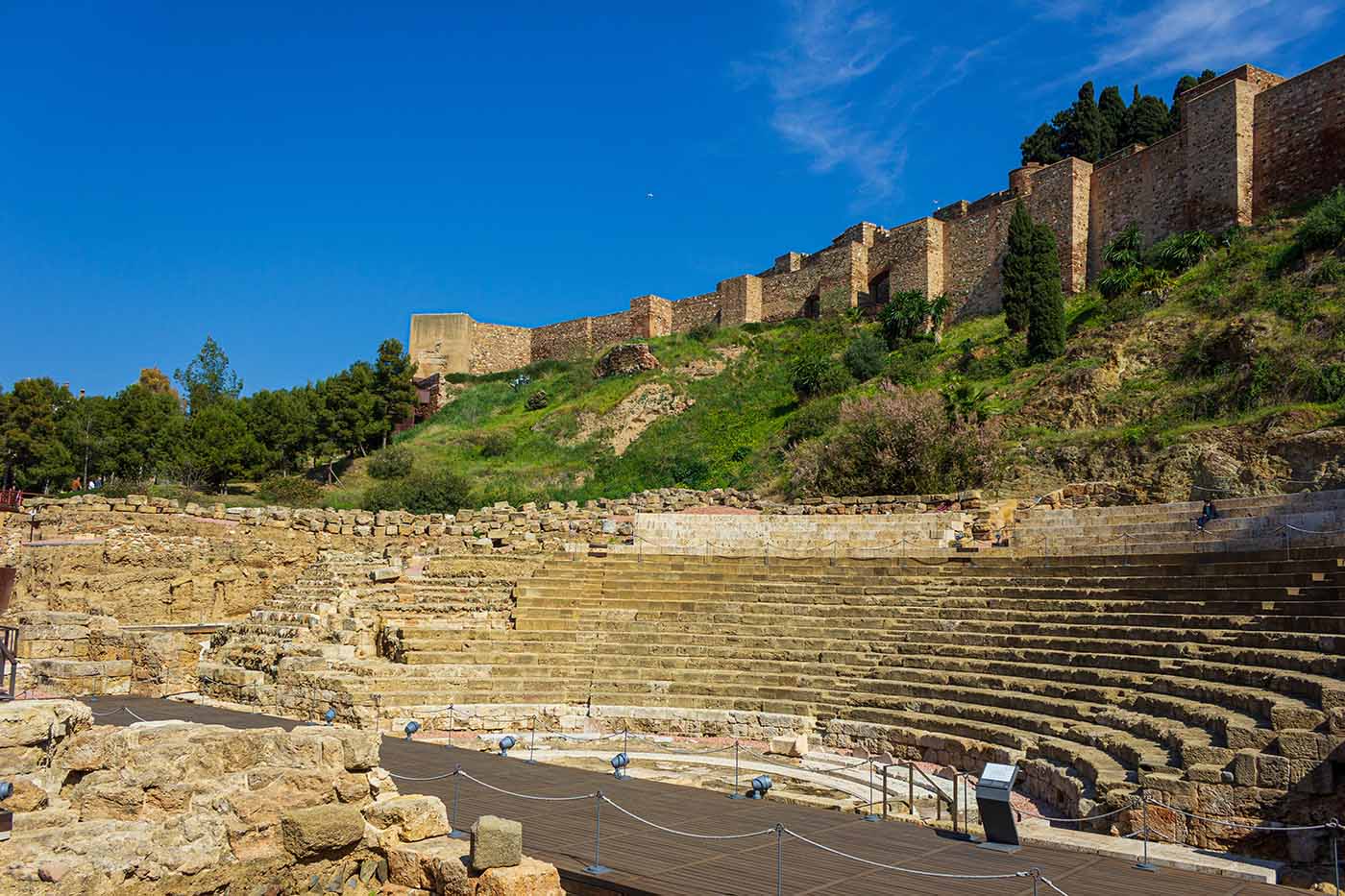 The ancient Moorish castle in the historic Kingdom of Granada was built in the 11th century on Roman ruins, renovated in the 13th century, and served as a citadel for the town's Muslim rulers for centuries. Located on Monte de Gibralfaro, the fortified palace had 3 defense walls, 110 main towers and other smaller towers. Visitors can still see the Torre de la Vela, Arco de Cristo, and Torre del Homenaje towers.
The old town of Malaga
You may say that old towns are often known for being the most picturesque locations in any destination, but I'll state that the old town in Malaga is unique in its own right. With its breathtaking sights, charming street corners, and ample opportunities for photos, it's the perfect place to capture memories and take stunning selfies.
The Old Town of Malaga is a historic district in the center of the city, known for its narrow, winding streets and well-preserved buildings from various eras, including Gothic, Renaissance, and Baroque.
The old town of Malaga is home to many landmarks, such as the Alcazaba fortress, the Roman Theatre, and the Cathedral of Malaga. The Old Town is a popular tourist destination, offering a vibrant atmosphere, street performers, and numerous shops, cafes, and restaurants. It is a must-visit for those seeking to experience the city's rich cultural heritage.
Puerto Banus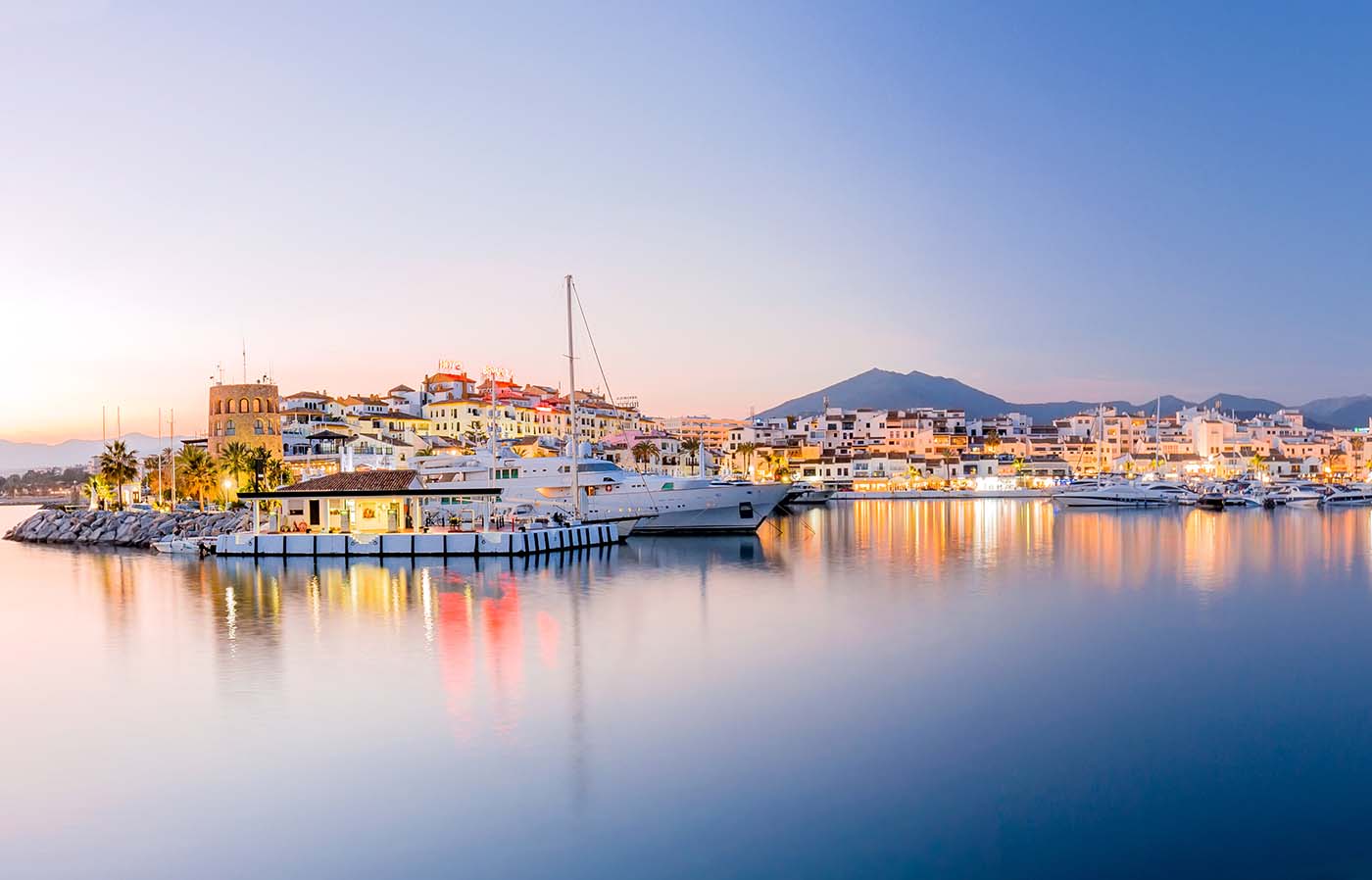 Located 7 kilometers from Marbella, Puerto Banus is one of the most renowned and gorgeous ports on the Costa del Sol.
Puerto Banus is a marina and luxury resort located on the Costa del Sol in the municipality of Marbella, near Malaga. It is a popular tourist destination known for its high-end shopping, dining, and nightlife experiences.
Puerto Banus is widely considered an excellent place to spend a day while on vacation. With its seaside scenery, it's a prime location for capturing memories and taking stunning photos.
Marqués de Larios Street
Check the location on the maps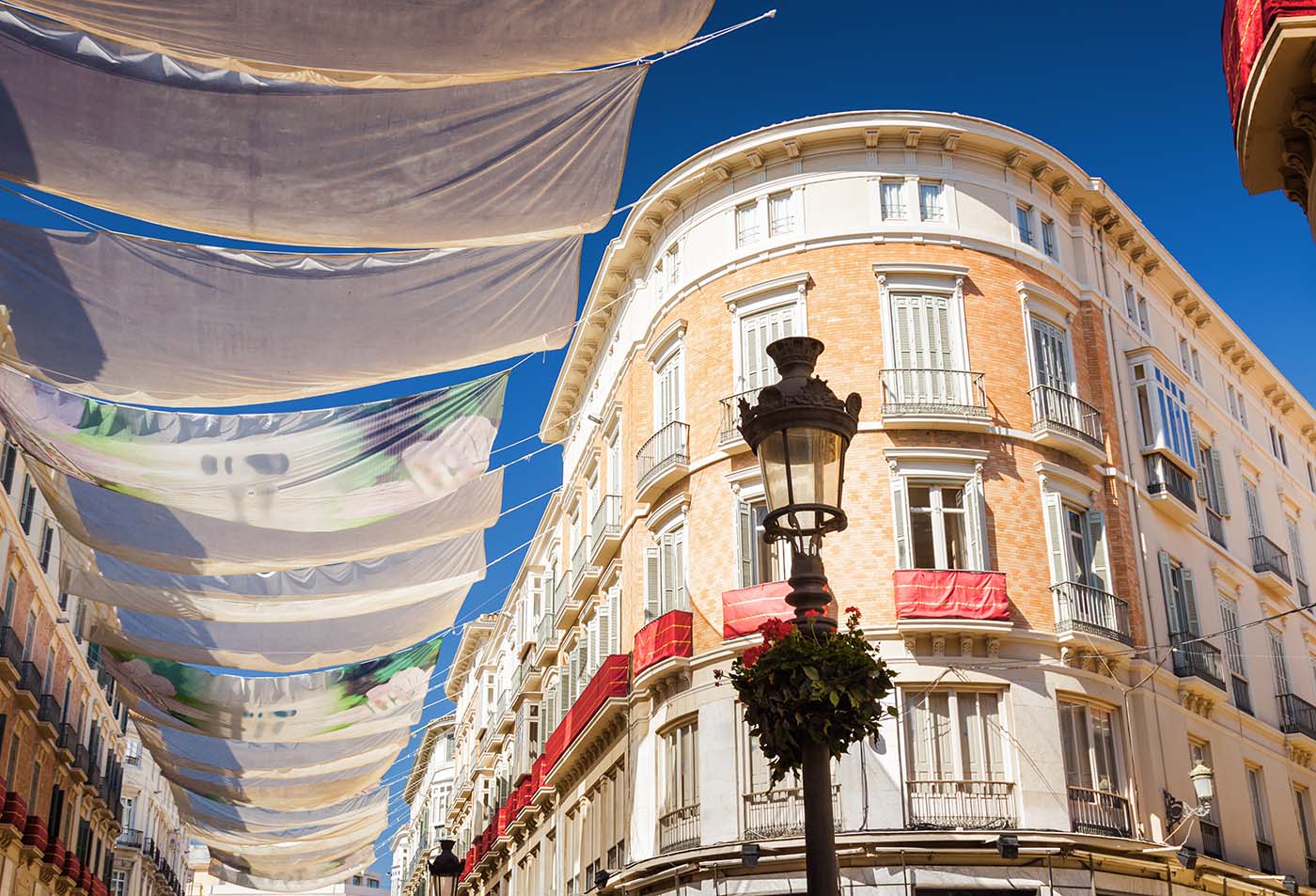 In Málaga, the iconic Larios street stands out with its stylish charm and surprise factor. It's a must-visit for tourists, as you'll stroll under the beautifully decorated awnings while exploring the many stores that line this legendary street. In addition to the numerous shopping centers, the street offers excellent photo opportunities to capture the city's stunning views, lively atmosphere, and bustling crowds.
Muelle Uno
See the location on the maps
Address: P.º del Muelle Uno, 4, 29016 Málaga, Spain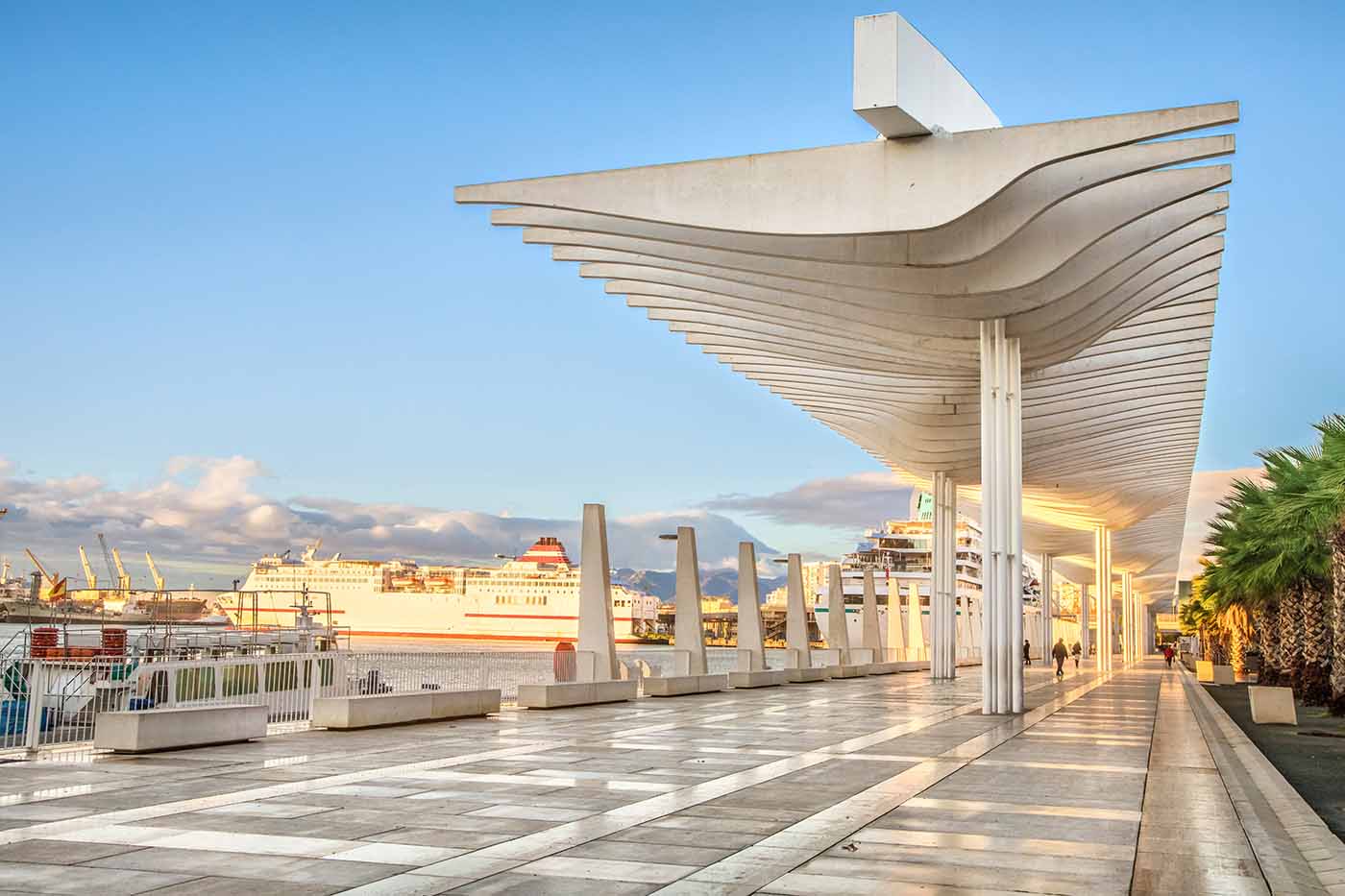 Muelle Uno is a relatively new addition to the city of Malaga. It's a seaside walkway lined with boats and restaurants, and it's not uncommon to see a large cruise liner docked here.
Muelle Uno, situated at the Port of Malaga, boasts the most breathtaking views of the city. It is a novel shopping center concept that provides a one-of-a-kind shopping, entertainment, and dining experience. With its front-facing view of the sea and a bustling shopping avenue, Muelle Uno offers a range of unique fashion and dining options that will captivate you with each visit.
Playa La Malagueta
See the location on the maps
Address: Malaga, Spain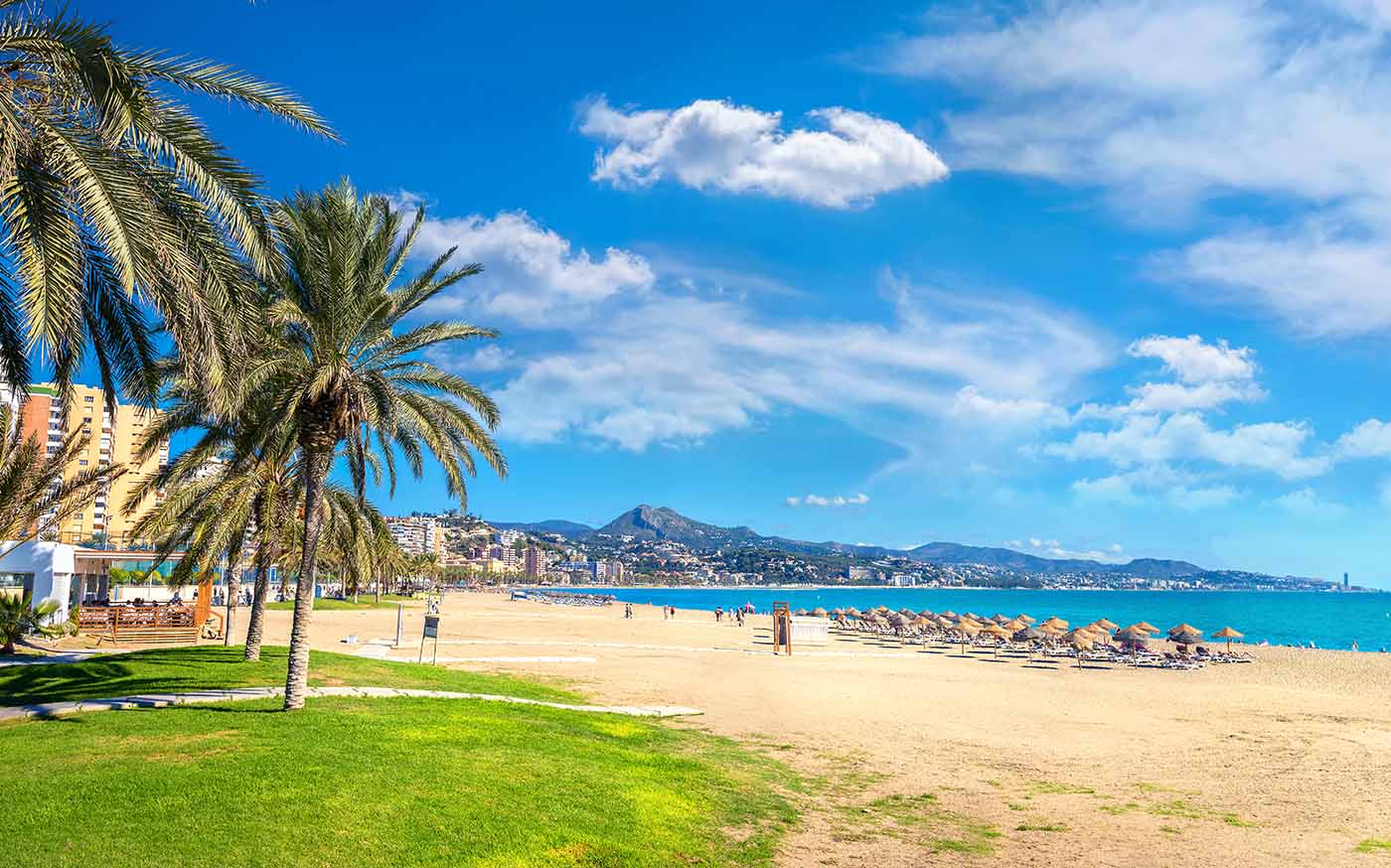 Playa La Malagueta is one of the city's most famous beaches, making it a must-visit for photography enthusiasts. Opt to visit in the morning when it is less crowded, or during sunset for breathtaking sunset shots and backdrops.
Centre Pompidou Málaga
See the location on the maps
Address: Pje. del Dr. Carrillo Casaux, s/n, 29016 Málaga, Spain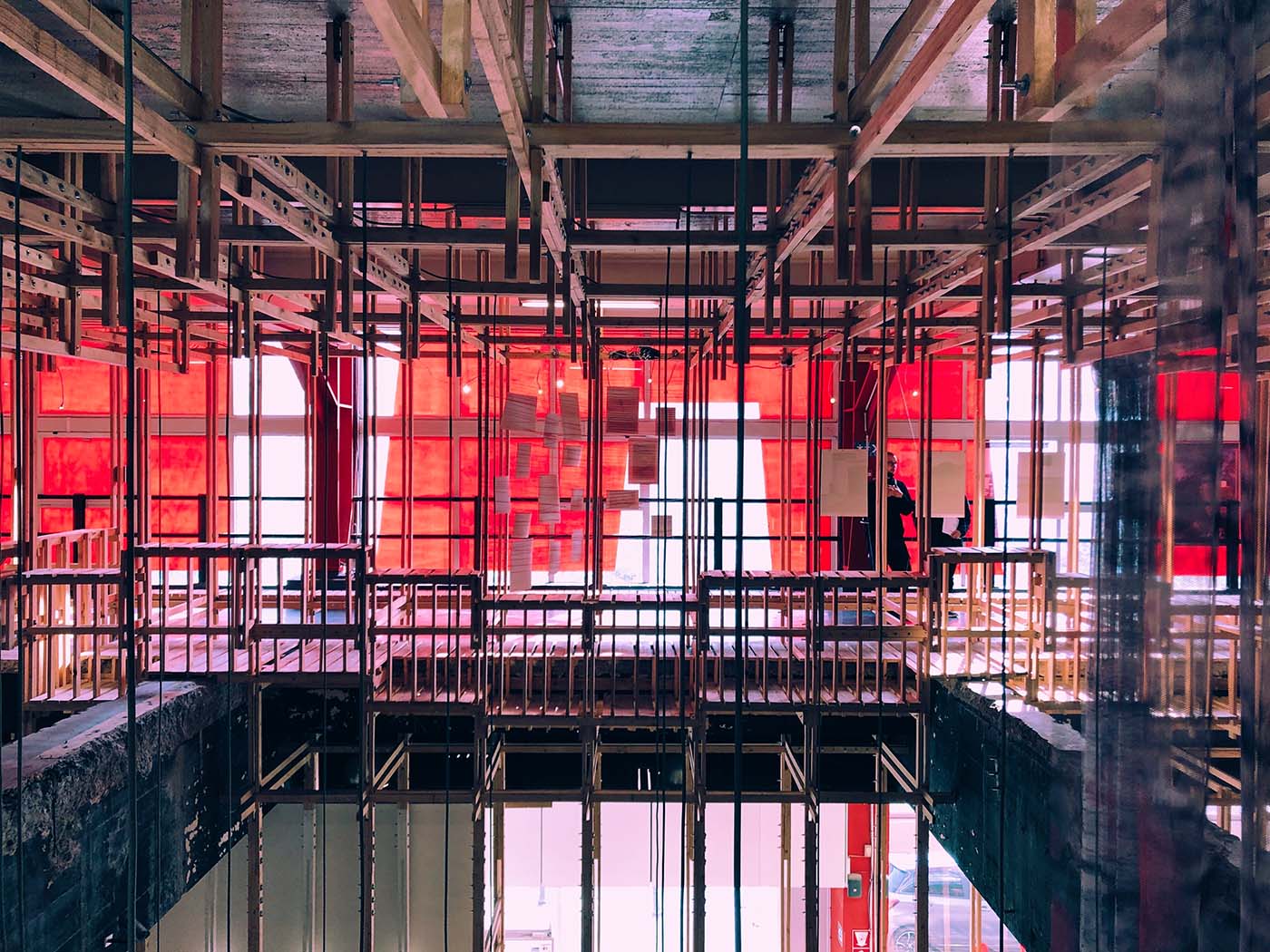 The first international branch of Paris's renowned Centre Pompidou museum, famous for its modern and contemporary art collection, is located in Málaga.
The vibrant outdoor installation is a beautiful sight that makes a great background for photos and can even serve as an Instagram-worthy filter.
The Centre Pompidou Málaga showcases approximately 80 paintings and photographs from the prestigious Paris collection, including works by artists such as Picasso, Max Ernst, and Frida Kahlo. Additionally, the museum regularly hosts temporary exhibitions.
Balcon de Europa in Nerja
See the location on the maps
Address: 29780, Málaga, Spain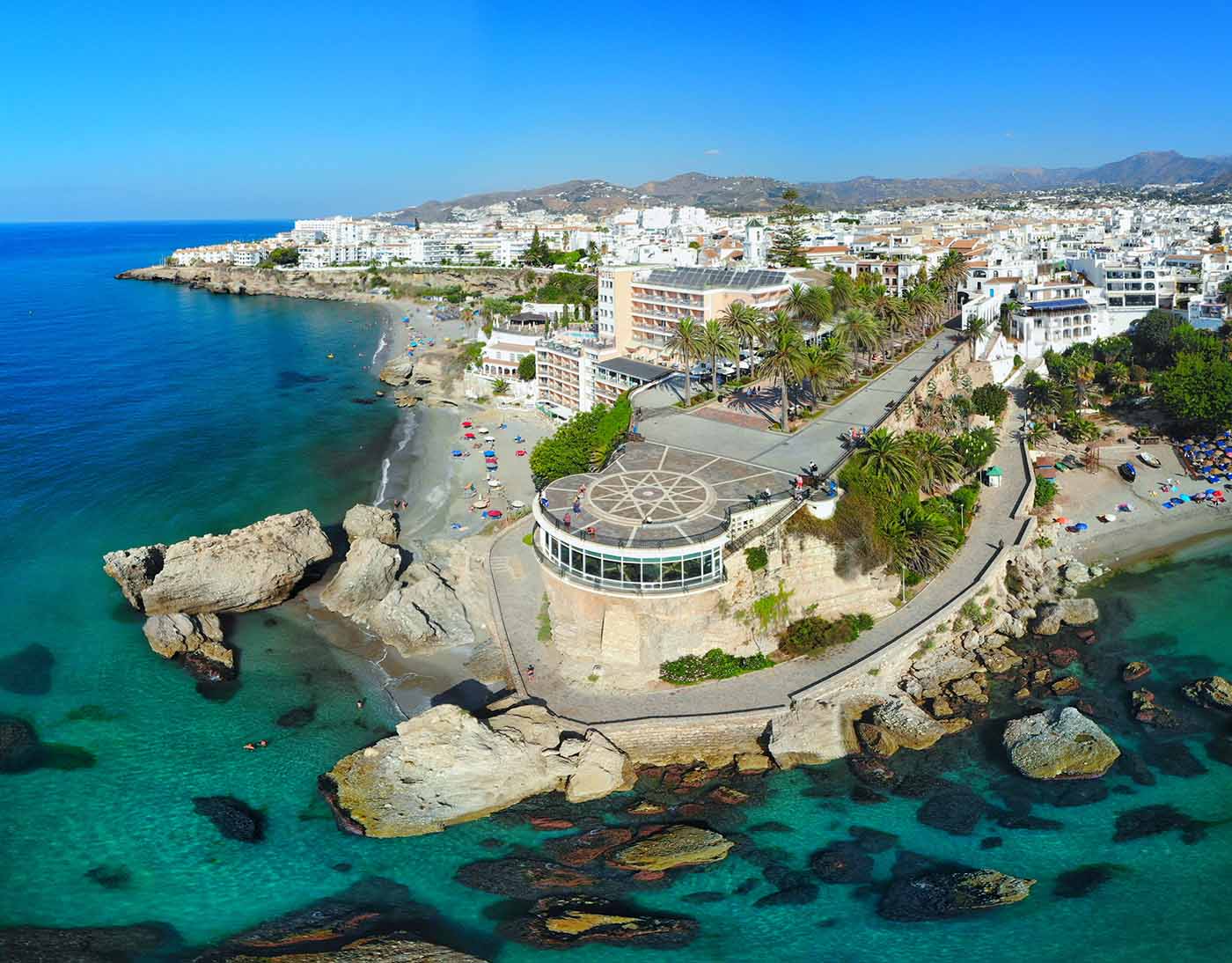 The Balcony in Nerja is a square featuring the stunning Church of El Salvador, surrounded by an avenue lined with palm trees on both sides. It leads to a circular balcony that provides breathtaking views of the sea, coves, and cliffs in the region. The area of Nerja's Balcon de Europa boasts numerous Instagram-worthy spots, allowing you to capture ideal photos for your social media stories and have fantastic experiences.
Mercado de Atarazanas (Market Hall of Malaga)
See location on the maps
Address: C. Atarazanas, 10, 29005 Málaga, Spain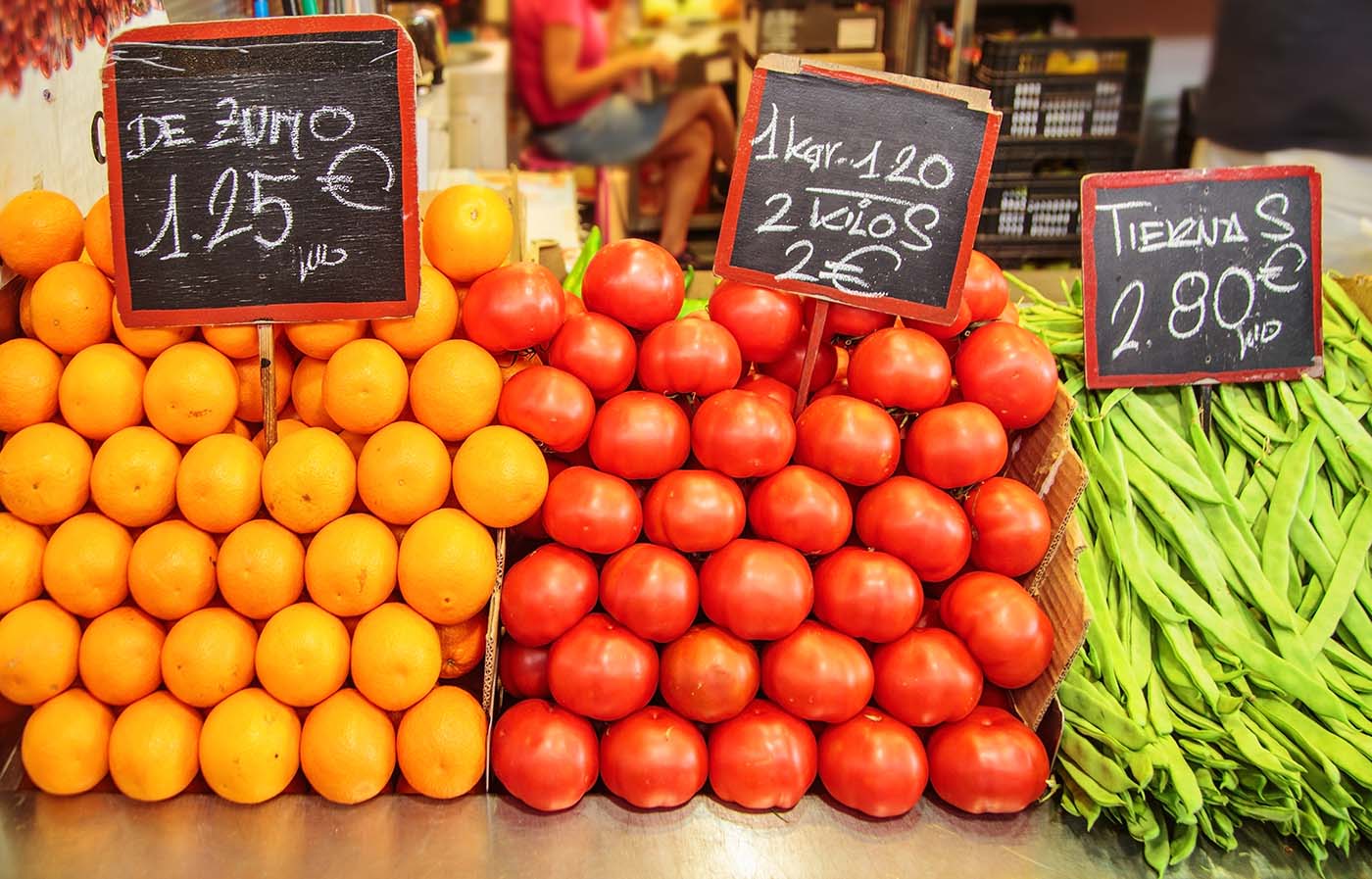 From Alameda, side streets head north to the Atarazanas Market. The entrance itself is a sight to behold, with a horseshoe-shaped Islamic gateway from the 14th century serving as the only remaining evidence of the old Moorish shipyard.
Plaza del Obispo
See the location on the maps
Address: 29015 Málaga, Spain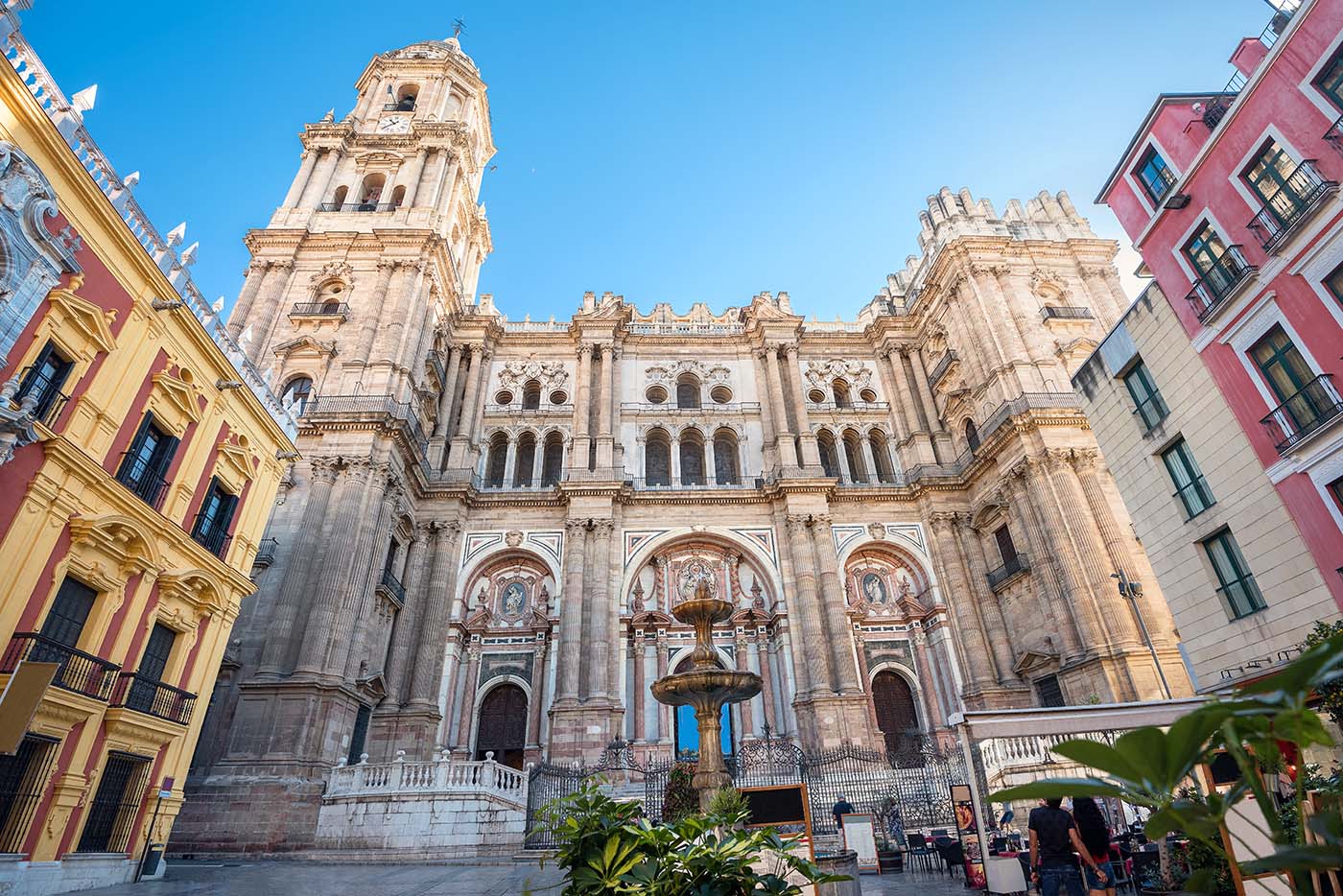 Plaza del Obispo is situated across from the Malaga Cathedral, making it a popular destination for tourists and a prime spot for taking photographs. It features charming restaurants, a large, historic fountain that is a favorite hangout spot for pigeons and offers stunning views of the cathedral.
Wrapping up
Malaga features an array of noteworthy sights and exudes a fantastic atmosphere. Visiting Malaga can result in unforgettable experiences and inspire storytellers and photographers.
Have you been to Malaga and captured any great photos? Share your experience in the comments and join the Euro Directions mailing list for more stories from various European destinations.
By the way, you can explore also 5 dishes to try in Malaga in another story about Malaga.
And finally, follow me on Twitter and Instagram 🙂
10 perfect insta-spots in Malaga, Spain 🇪🇸
In this story, I'm going to tell about the most amazing Insta-spots or also known as instagrammable places in Malaga, Spain…
See more https://t.co/SDTzfPTefi#Spain #instaspots #Malaga pic.twitter.com/3xemQkLA1n

— Van Aragast (@vanaragast) February 5, 2023
---
Insta-spots
Insta-spots = Instagrammable places = sights that are the most popular among tourists and
Insta-spots often have unique features, such as colorful murals, intricate architecture, scenic views, or trendy cafes, and are popular among users who want to showcase their experiences and life events to their followers. The term is often used to describe tourist destinations, cities, parks, and other popular photo-taking spots that have gained attention on social media.