Barcelona, the famous capital city of the Catalonia region in Spain, is a perfect destination for those who love to explore on foot. With its extraordinary architecture, narrow streets, bustling plazas, and charming neighborhoods walking in Barcelona is an excellent way to experience the city's unique lifestyle, amazing culture, and history.
In context: Browse all options for Barcelona airport transfers
Once you've experienced Barcelona, you'll realize that one visit is not enough and you'll want to return. If you ever have the opportunity to travel to Barcelona, make the most of your time there by using every minute to take in the sights and create lasting memories.
From the famous La Rambla to the trendy El Born district, there are endless opportunities to wander and discover hidden gems along the way. Whether you're a first-time visitor or a seasoned traveler, walking in Barcelona is sure to leave you with lasting memories of this captivating city. So put on your comfortable shoes, grab a map, and let's go for a stroll through the streets of Barcelona!
While in Barcelona, you have a wonderful opportunity to immerse yourself in the city's extraordinary streets and lifestyle, savor delicious street food and café offerings, and indulge in shopping at the city's charming boutiques without the constraints of a tight schedule.
Walking in Barcelona without guides
Exploring a city on your own can be a wonderful experience during a vacation, allowing you to enjoy the streets, cafes, and sights at your own pace and in your own company without guides and exact timelines of the city tour.
Montjuic Magic Fountain 360 view
Barcelona is a beautiful city that is perfect for exploring on foot. While there are many guided tours available, there are also many places where a tourist can walk alone and enjoy the sights and sounds of the city. Here are some places you can explore in Barcelona without a guide:
La Rambla: This famous street is a must-visit for any tourist in Barcelona. It's a pedestrianized zone that stretches from Plaça Catalunya to the waterfront, and it's lined with shops, restaurants, and street performers.
Gothic Quarter: This historic neighborhood is full of narrow streets, old buildings, and hidden squares. It's a great place to get lost and explore on your own.
Park Güell: This park is one of Barcelona's most famous attractions, and it's easy to explore on your own. Wander through the gardens and admire the colorful mosaics and sculptures.
Montjuïc: This hill is home to several museums and cultural attractions, as well as stunning views of the city. You can take the cable car up to the top, or hike up if you're feeling adventurous.
Barceloneta Beach: If you want to escape the hustle and bustle of the city, head to Barceloneta Beach. It's easy to reach by public transport, and you can walk along the promenade or relax on the sand.
Passeig de Gràcia: This street is known for its high-end shops and modernist architecture, including buildings by Gaudí and other famous architects.
El Raval: This neighborhood is known for its trendy bars, street art, and multicultural vibe. It's a great place to wander and discover hidden gems.
El Born: This neighborhood is full of charming streets and historic buildings, as well as several museums and cultural attractions.
Ciutadella Park: This park is a great place to relax and enjoy nature in the heart of the city. It's home to a beautiful fountain, a lake, and several museums.
Sagrada Familia: This famous church is a must-visit for any tourist in Barcelona. You can easily explore the exterior of the building on your own, and there are also guided tours available if you want to learn more about its history and architecture.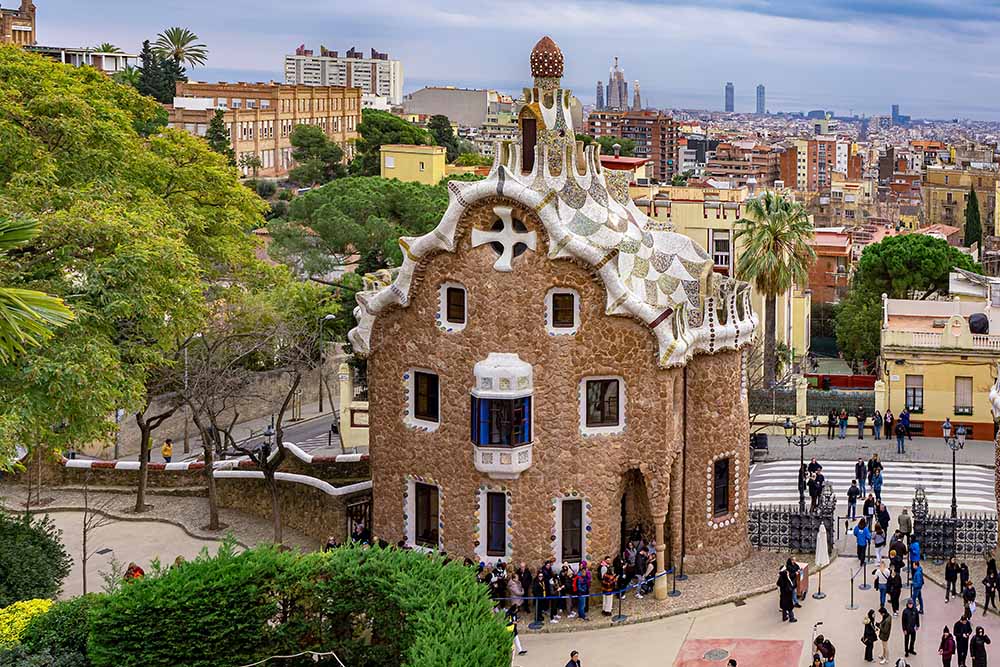 Barcelona City Pass
Explore all attractions of Barcelona with a City Pass – from exciting Camp Nou, to a brewery tour and many other attractions entrance tickets with one pass. See Barcelona City Pass options here.
Not popular places in Barcelona
While regular guided tours and popular attractions are definitely worth the visit, there is a unique pleasure in discovering lesser-known places that are not frequented by many tourists. We selected 5 underrated places in Barcelona that a tourist can visit without a guide.
Palau de la Música Catalana: This beautiful concert hall is often overlooked in favor of other famous Gaudi buildings, but it's a must-see for architecture and music lovers. You can take a guided tour or explore the building on your own.
Address: C/ Palau de la Música, 4-6, 08003 Barcelona, Spain
Location on the map
Official website
Sant Pau Art Nouveau Site: This complex of buildings was once a hospital, but has now been converted into a cultural center. It's a beautiful example of Art Nouveau architecture and is much less crowded than some of the city's other attractions.
Address: C/ de Sant Antoni Maria Claret, 167, 08025 Barcelona, Spain
Location on the map
Official website
Plaça de les Glòries Catalanes: This large square is home to some impressive modern architecture, including the Torre Agbar skyscraper and the Disseny Hub design museum. It's a great place to explore on foot and take in some of the city's contemporary culture.
Address: Pl. de les Glòries Catalanes, 10, 08013 Barcelona, Spain
Location on the map
El Carmel Bunkers: For a unique view of the city, head to the El Carmel Bunkers. These former military fortifications offer panoramic views of Barcelona and are a popular spot for sunset-watching and picnicking.
Address: Carrer de Marià Labèrnia, s/n, 08032 Barcelona, Spain
Location on the map
Poble Nou: This neighborhood is a bit off the beaten path, but it's worth a visit for its trendy shops, cafes, and street art. It's also home to several beaches and parks, making it a great place to escape the tourist crowds and enjoy some local flavor.
See the map
Barcelona air ticket price list
Cafes in Barcelona worth visiting during a trip
Federal Café: This popular cafe has several locations throughout the city and is known for its excellent coffee, brunch, and atmosphere. It's a great place to relax and people-watch while enjoying a delicious meal or drink.

Federal Cafe, Barcelona. Image by Federal Cafe Facebook page

Satan's Coffee Corner: For a more off-beat coffee experience, head to Satan's Coffee Corner. This trendy cafe serves up some of the best espresso in the city, along with creative food and drink options.
Els Quatre Gats: This historic cafe was a favorite haunt of Pablo Picasso and other famous artists during the modernist period. Today, it's a great place to enjoy a coffee or light meal in a beautiful Art Nouveau setting.
Brunch & Cake: As its name suggests, Brunch & Cake is a great place to enjoy a leisurely brunch or breakfast. The cafe is known for its colorful, Instagram-worthy dishes and cozy atmosphere.
La Nena: For a taste of traditional Spanish pastries and sweets, head to La Nena. This charming cafe has a cozy atmosphere and serves up delicious treats like churros, ensaimadas, and croissants.
Organize a tour in Barcelona by yourself
Organizing a self-guided tour in Barcelona can be a rewarding and cost-effective way to explore the city. Here are some important points to keep in mind:
Transportation: Barcelona has an extensive public transportation system that includes buses, metro, and trains. A T10 ticket allows for 10 rides on any of these modes of transport and is a great way to save money on transportation costs.
Tickets: Many of Barcelona's top attractions, such as the Sagrada Familia and Park Guell, require advance tickets. These can be purchased online or at the attraction itself, but it's important to plan ahead to avoid long lines and potential disappointment.
Map: Getting a map of the city can be very helpful for planning your route and ensuring that you don't miss any important sights.
Walking tours: Barcelona has many walking tours available that are led by knowledgeable guides. These can be a great way to get an overview of the city's history and culture.
Some other notable points to keep in mind when organizing a self-guided tour in Barcelona include the city's architecture, museums, parks, and beaches. It's also important to sample the local cuisine, such as tapas and paella, and to take advantage of the city's vibrant nightlife.
Have fun in Barcelona! And don't forget to leave your feedback about your experience.
Your tickets to Barcelona may be found on the cheap flight calendar. Check it out before calling tens of travel agencies and searching on lots of websites. More information on beaches, eateries and famous dishes you can find in Barcelona's quick guide, and on the bucket list of Barcelona.
Barcelona walking tour 228 min video