Flights to Santorini are one of the most demanded travel itineraries in Europe and mostly in Greece. Santorini (aka Thira) is a Greek island located in the Aegean Sea. It is part of the Cyclades group of islands and is known for its picturesque towns, white-washed buildings, and stunning sunsets.
The island of Thira/Santorini is a popular tourist destination and is known for its beaches, ancient ruins, and beautiful views of the caldera, which is the collapsed center of a volcano. The island's capital is Fira, which is home to many shops, restaurants, and bars. Other popular towns on the island include Oia, known for its sunset views, and Akrotiri, home to ancient Minoan ruins.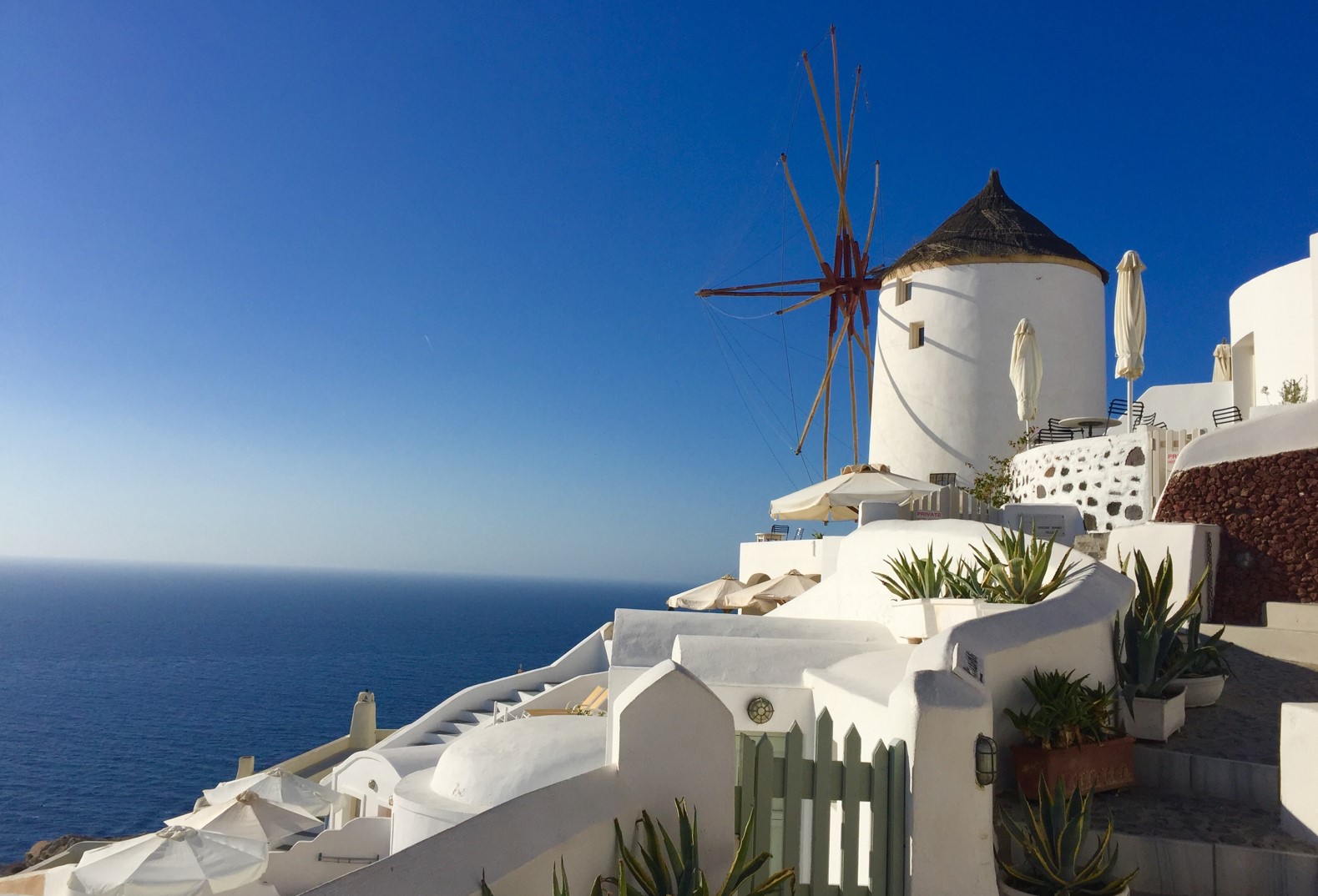 As for its popularity, millions of people from all around the world are looking for transportation options to Santorini, including air travel. But you're going to surprise if we say that Santorini airport accepts only one direct regular flight and the origin of the flight is Athens – the capital of Greece.
Santorini receives a large number of visitors each year, despite the fact that it has only one regular direct regular flight from Athens. This means that the majority of visitors to the island will likely have to connect through Athens before continuing on to Santorini.
There are 2 airlines that operate regular direct flights from Athens to Thira/Santorini island, and those are Aegean Airlines and Sky Express. Both airlines have daily 2 or more flights to the airport of Santorini. You can check the flight ticket prices below this page using cheap flights calendar or flight list.
Athens-Santorini flights timetable
All daily flights from Athens to Thira/Santorini
—
Despite this limitation on regular direct flights, the island still manages to draw a significant number of visitors, who are drawn to its picturesque towns, beautiful beaches, and ancient ruins. Additionally, there are airlines operating direct charter flights from European cities during summer travel season. Also, there are other ways to reach the island, such as by ferry, which is a common transportation option for tourists visiting the Greek islands.
Flights to Santorini
Here you can check popular flight options to Santorini
—
Calendar of flights to Santorini
Select your city and see the cheap prices for flights to Santorini from your location
—
Step-by-step guide for cheap flights calendar
Click on the window of the month
See the cheapest dates for your flight
Or select another date
Change the origin of the flight from Settings (top-left corner of the calendar)
Change the flight type from Settings – one-way or two-way flights
Clicking on the flight window you'll be redirected to flight search results page on our search system
You can book your chosen flight ticket on the platform which provides the online booking service
Euro Directions platform is a search and comparison system, and doesn't provide ticket booking services
10 tips for a trip to Santorini
—
Take a cruise or boat tour to see the famous caldera and volcano.
Visit the charming towns of Oia and Fira for stunning views and shopping.
Take a dip in the hot springs at Palea Kameni.
Visit the ancient city of Akrotiri, a well-preserved Minoan settlement.
Rent an ATV or scooter to explore the island's rugged terrain.
Take a wine tour to sample the local vintages.
Enjoy the nightlife in Kamari or Perissa.
Explore the island's many beaches, such as Red Beach and Black Beach.
Take a cooking class to learn about traditional Greek cuisine.
Take a sunset or sunset cruise to see the island in a different light.
In case you first need to book a trip to Athens, check out this directory of cheap flights to Athens, Greece.