Air Mauritius is expanding its flight service network by introducing additional destinations in both Asia and Europe.
🟩 Flights from Mauritius to Delhi, India
Starting on 2023 May 3, Air Mauritius will resume its direct flights to Delhi Indira Gandhi International Airport twice a week, using newly leased Airbus A330-200 planes. The aircraft will offer 18 business and 236 economy class seats, with the business class featuring lie-flat seats arranged in a 2-2-2 configuration and economy class seating arranged in a standard 2-4-2 layout.
The flights will depart from Mauritius to Delhi on Wednesdays and Saturdays at 21:15 and arrive at 06:15 the next day. The return flights will leave Delhi on Thursdays and Sundays at 08:00 and arrive back in Mauritius on the same day at 14:00.
The travel time for the flights between Mauritius and Delhi is approximately seven and a half hours. Additionally, Air Mauritius operates six weekly flights to Chhatrapati Shivaji Maharaj International Airport in Mumbai.
Krešimir Kučko, CEO of Air Mauritius commented: "We are pleased to restart our operations to New Delhi after three years of absence. Mauritius and India share a special relationship that is built on the foundation of people-to-people ties. Both countries are united by culture, ancestry, language and geography. In April this year, Air Mauritius will be proudly commemorating its 50 years of presence in Mumbai. New avenues are being explored with Air India in order to offer seamless connectivity via both Mumbai and New Delhi to/from a number of destinations in India."
Air Mauritius has announced that it will relocate its operations from London's Heathrow Airport (LHR) to Gatwick Airport (LGW) starting from October 29. The airline will increase its frequency from five to seven flights per week to Gatwick, utilizing a combination of its latest-generation planes, the Airbus A350-900 and A330-900neo.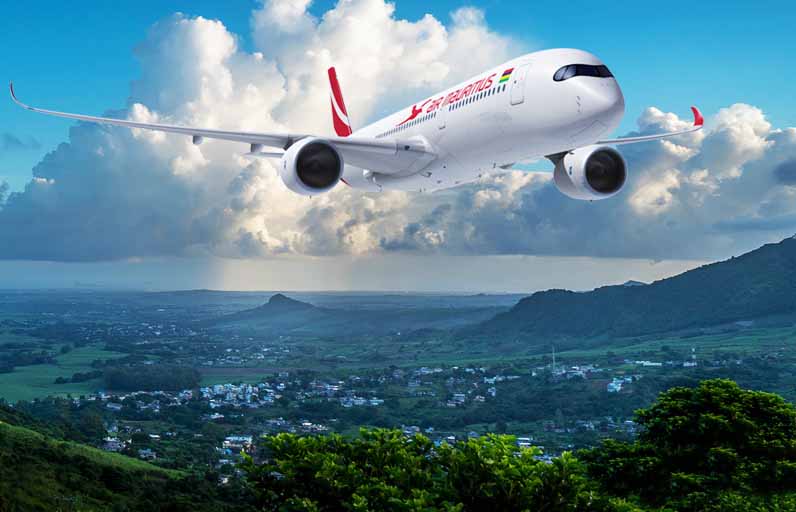 These planes come with updated interiors and business-class cabins that feature fully flat suites arranged in a 1-2-1 configuration.
"London has always been a high-priority destination for us and as part of the commemoration of Air Mauritius' 50 years of operations to the United Kingdom in November 2023, we are proud to announce daily operations to London Gatwick as from 29 October this year. This strategic move allows Air Mauritius to meet increasing demand on this historical route while using its most environmentally friendly types of aircraft," commented airline chief Kučko, a former Croatia Airlines and Gulf Air chief executive.
🟩 Fly from Mauritius to Geneva
In addition, starting from October 2 until January 12, 2024, Air Mauritius will operate direct seasonal flights between Mauritius and Geneva twice a week, using Airbus A330-900neo aircraft.
"We are pleased to note the excellent response of the market to the resumption of operations to Geneva. We believe that it will contribute to boost tourist arrivals from Switzerland, Italy, southern Germany and France. Direct long-haul operations have traditionally been our strength to secure competitive leverage and we are currently exploring other similar opportunities to expand our network," said Kučko.
He stated that these direct flights enhance the airline's "origin-destination" network. Air Mauritius' primary point of entry into Europe is Paris, where it provides codeshare flights to almost 40 destinations throughout the continent through its partner, Air France. Currently, Air Mauritius operates two flights daily to Paris Charles de Gaulle.
🟩 Where you can fly from Mauritius?
Air Mauritius is the national airline of Mauritius and has been operating for over 50 years. The airline offers a range of flight destinations to various parts of the world, including Africa, Europe, Asia, and Australia.
Some of the popular destinations served by Air Mauritius include Paris, London, Johannesburg, Mumbai, Singapore, and Sydney. With its modern fleet of aircraft and high-quality service, Air Mauritius has established a reputation as a reliable and trustworthy airline for both business and leisure travelers.